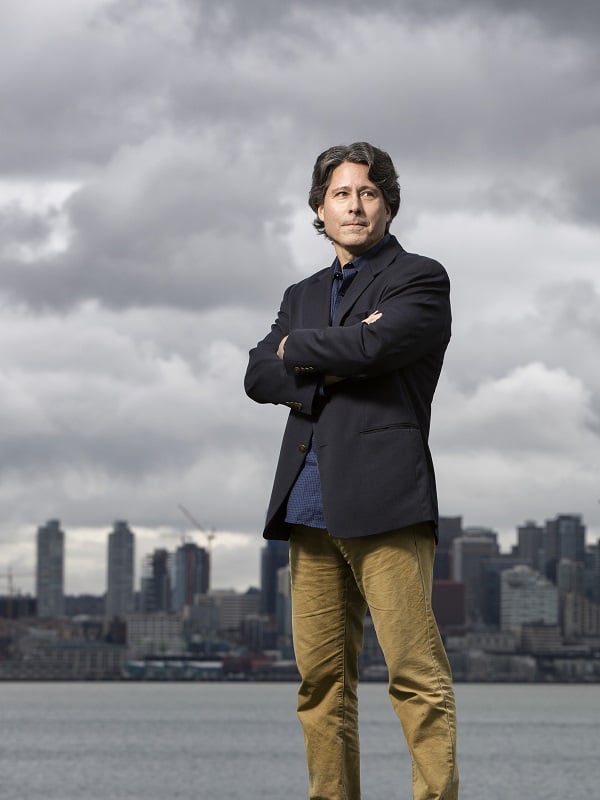 Robert Dugoni is the critically acclaimed New York Times, Wall Street Journal, Washington Post and #1 Amazon bestselling author of the Tracy Crosswhite police series, which has sold more than 8 million books worldwide. He is also the author of The Charles Jenkins espionage series, the David Sloane legal thriller series, and several stand-alone novels, including The 7th Canon, Damage Control, and the literary novels, The Extraordinary Life of Sam Hell and The World Played Chess. His books are sold in more than twenty-five countries and have been translated into more than thirty languages.
Q Can you share with us the summary of Her Deadly Game?
Robert: Her Deadly Game is the story of Keera Duggan, a former chess prodigy and up and coming criminal trial lawyer. When a relationship with her boss at the prosecuting attorney's office ends badly, Keera goes to work at her father's criminal defence firm. It's a job Keera swore she'd never take. Her father is a lifelong alcoholic, and her family is dysfunctional as a result. Her two older sisters also work at the firm, which is struggling as her father ages and his illness takes its toll. The firm needs a big case and Keera provides it when Vince Flynn hires her to defend him for the brutal murder of his wife. What Keera uncovers is a complicated and deadly game. Shocking information turns the case upside down and forces Keera to decide between her duty to her client, her family's legacy, and her own future.
Q How did you go from lawyer to writer?
Robert: I've wanted to write since the seventh grade, and because of some bad behavior on my part, my teachers suggested to my mother (who taught English), that I should read more. She gave me The Count of Monte Cristo, The Great Gatsby, The Old Man and the Sea, and many others, and I fell in love with characters and stories and knew I wanted to be a writer. But somehow, I ended up in law school. Practicing law taught me how to work hard, but also how to tell a story in a way that evokes emotion. Many trial lawyers are born storytellers, and I observed and emulated many of them. Law also made me a keen observer of others—the way they spoke and moved. It provided a rich tapestry for future characters.
Q Do you plot out your stories? What is your process?
Robert: I no longer plot my novels. I have become an organic writer who listens to the story my characters tell me when I write the first draft. After I have the story down on paper and know what it is really about, then I go to work shaping it.
Q Tell us a bit about Keera Duggan, who is gifted yet also wounded and vulnerable?
Robert: Keera is an amalgamation of people I know or have known in my life. And yes, she's very gifted. And she's very much like her father, although she hates to admit it. She's smart, intuitive, bold and willing to take chances.
Q What was the inspiration behind Her Deadly Game, and your character Keera Duggan?
Robert: Each novel starts with a simple idea. I was speaking to a friend who told me about Darren Berg, a Seattle con artist who bilked many sophisticated and wealthy investors out of millions of dollars just like Bernie Madoff, then walked out of a low security prison and was never seen again. From there I started to piece together a story. Many of the best trial attorneys I have known and practiced with are also very good chess players. So I wanted Keera Duggan, my protagonist, to have that strength, but I also wanted her to have her skeletons, as we all do—a personal relationship at work that goes sour and puts her career unjustifiably in danger, a dysfunctional family due to alcoholism, a tattered relationship with her father. I didn't want to write a straight legal thriller, but one that was layered with family and personal issues and police procedural details. The last thing I thought of was the crime. For that I called a former police officer and he put me in touch with a friend of his, and together the three of us figured out the pieces of the crime that propels the story forward.
Q Can you tell us more about Frederick Darren Berg and how he influenced the story of Her Deadly Game?
Robert: Darren Berg was a con artist who ran the largest Ponzi scheme in Washington State history. His scheme was modelled after Bernie Madoff's Ponzi scheme in New York City. He bilked hundreds of investors out of millions of dollars in investments that did not exist, paying them distributions by bringing in additional investors. Meanwhile, Berg led a posh lifestyle of mansions, private jets, and expensive cars. When his investment scheme crashed, Berg was convicted and sentenced to 18 years in prison. In 2018, after spending just a few years in confinement, he orchestrated his escape using a runway near his prison. It is believed he walked away from a work assignment and jumped on an airplane flown by his boyfriend. He has never been caught. The story generated a lot of articles which discussed Berg's upbringing and revealed his propensity to con people from a very young age. It started innocently, a few dollars here and there, and eventually built to his $500 million dollar investment firm, Meridian Investments, which was a total scam.
Q Is there a lesson that readers can take away from Her Deadly Game?
Robert: I never write a story with a moral or a lesson in mind. Each reader comes to a story with their own personal background and takes from the story that which is meaningful to them. I want readers to relate to a story on an emotional level so they can become a part of the story, and immerse themselves in it.
Q What's next for you? Will Keera Duggan return?
Robert: Keera Duggan will be back in what I hope is an equally long running series. In the interim, I'm working on a stand-alone novel based on a true story, a trial that took place in 1933 for which I have three full scrapbooks kept by my wife's grandfather, who was a prominent Seattle attorney. I'm also working on a World War II story based on real events that have never, to my knowledge, been told in any detail. I'm excited about that project as well. 
Her Deadly Game
Keera Duggan was building a solid reputation as a Seattle prosecutor, until her romantic relationship with a senior colleague ended badly. For the competitive former chess prodigy, returning to her family's failing criminal defense law firm to work for her father is the best shot she has. With the right moves, she hopes to restore the family's reputation, her relationship with her father, and her career.
Keera's chance to play in the big leagues comes when she's retained by Vince LaRussa, an investment adviser accused of murdering his wealthy wife. There's little hard evidence against him, but considering the couple's impending and potentially nasty divorce, LaRussa faces life in prison. The prosecutor is equally challenging: Miller Ambrose, Keera's former lover, who's eager to destroy her in court on her first homicide defense.
As Keera and her team follow the evidence, they uncover a complicated and deadly game that's more than Keera bargained for. When shocking information turns the case upside down, Keera must decide between her duty to her client, her family's legacy, and her own future.