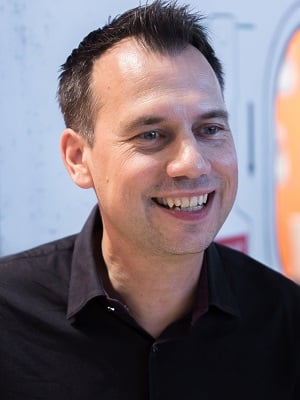 After going to law school, Sebastian Fitzek decided against a juridical profession in favor of a creative occupation in media. After the traineeship at a private radio station he switched to the competition as head of entertainment and became chief editor. He lives in Berlin where he works for a major capital radio station.
Q. Head of Zeus has acquired five of your psychological thrillers, with Passenger 23, Seat 7A, and The Soul Breaker coming out this year. What does it mean for you on a personal and professional level to see your work in the English language market?
Sebastian: It was both a miracle and a grand dream of mine that came true. Even as a teenager, I was influenced by the great masters of English-language thrillers and could never have imagined that I would now be published myself in the native lands of suspense literature. Well, to be honest, I couldn't even imagine being published at all either… 
Q. For readers who aren't yet familiar with your work, what can they expect? Who are some of your author role models?
Sebastian: Stephen King once said that there are basically two kinds of thrillers: one is like a cruise ship that chugs along at a leisurely pace but then becomes unstoppable at full speed on the high seas. The other would be a speedboat in which the action starts immediately and without major detours. My works tend more towards the latter category, although stylistically I have no direct models but hope to have found my own voice. In any case, the headline applies to all my thrillers: Nothing is as it seems. 
Q. Your books have been frequently adapted to film, including Cut Off and The Child. Can we expect future adaptations?
Sebastian: Amazon Prime Video has just announced that three of my thrillers are going into series production. Which ones, I'm not allowed to say, or they'll cut off all my fingers, which I don't necessarily need for typing. (Okay, I tend to exaggerate just a tad). 
Q. Is it true that you have fans with tattoos of quotes from your books? What other outlandish fan behavior have you seen?
Sebastian: Yes, a fan has a complete book quote from The Eye Collector on her thigh. With my handwriting! Believe me, when you see it, you wouldn't even want to ask for an autograph. The last, truly extraordinary fan request came from a 94-year-old who wanted a bookmark for The Soul Breaker. 
Q. What are you working on now?
Sebastian: I am currently writing something funny for a change, because I think that, especially now, we need something to laugh about.
Sebastian Fitzek's Latest
The Package
Emma's the one that got away.
The only survivor of a killer known in the tabloids as 'the hairdresser' – because of the trophies he takes from his victims.
Or she thinks she was.
The police aren't convinced. Nor is her husband. She never even saw her tormentor properly, but now she recognizes him in every man.
Questioning her sanity, she gives up her job as a doctor in the local hospital and retreats from the world. It is better to stay at home. Quiet. Anonymous. Safe. No one can hurt her here.
And all she did was take a parcel for a neighbor.
She has no idea what she's let into her home.
More Psychological Thrillers