Sightless
Rating:  Not Rated
Director:  Cooper Karl
Premiere Date (Theaters):   Sept 29, 2020
Sightless is a 2020 American psychological thriller film which premiered at Dances with Film festival on September 2nd before getting a wide release on demand through MarVista entertainment September 29th and then appearing on Netflix around January 20, 2021. The film was Cooper Karl's directorial debut with it being based on a 2017 short film he created of the same name. The film has a small cast of Madelaine Petsch, Alexander Koch, and December Ensminger, with most of it taking place in a single setting, but all of this is done to create an outstanding film. Going into this I was interested by the premise of someone losing their sight, but I was unaware of the type of film it was going to be. I initially had thoughts of a basic horror film, utilizing the loss of one sense and how the person is then tormented and unsure of what to believe. But I got much more than I bargained with regarding this film. Before I get into the only notes I made on this film in-depth, I want to state that Karl has a great future ahead of him, he demonstrated the essentialist perspective that less but better is the most efficient way to declare yourself to a saturated workplace, and the acting was sublime, with kudos going to Koch and Petsch. Now, onto the most interesting element of this film.
The Unreliable Narrator
Most films are told from the perspective of the camera, where everything we see is true, and at no point is the viewer required to question what they are seeing or be of the belief that not everything is what it seems. But on occasion, media can utilize the idea of a narrator, (This is normally reserved for books). If you don't know what an unreliable narrator is, here is a quick explanation, it is a narrator whose credibility is compromised, first coined by Wayne Booth in 1961 in The Rhetoric of Fiction. Sometimes we become aware of what makes the narrator unreliable through a declaration of mental illness, a blatant lie or something that we the viewer already know to be false.
This film is told through the eyes of Petsch's character who has lost her vision in the opening scene. We see how she is attacked, what she has lost, and how the adaption to a sightless life is difficult for her. As pointed out by characters to her during the film, she should trust no-one, and everything she sees in her head comes from the perception that is derived by what she is told by others. The use of this concept and practice which is mainly a book writing tool, gave me an insight into a new way of telling stories in a visual sense. The only notes I made during the film was regarding the shifting of perspectives and how everything in life that we even believe comes from what we are told by others.
The film is 90 minutes long and takes place almost exclusively in a single apartment. The area that Petsch lives in gives us a vibe of interest and getting to spend time in an apartment that has been created for a newly blind person demonstrates what is available to those who lose a sense, and how they can adapt to their new life. I think this could honestly be one of the best thriller films of the next five years, and I don't want to get too in-depth about the story for fear of telling you too much. But maybe, I am also an unreliable narrator? This film is a must see.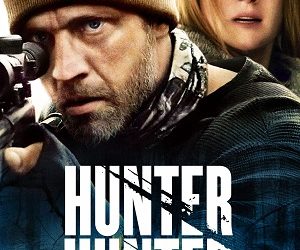 Fur trappers hunted by the return of a rogue wolf
read more