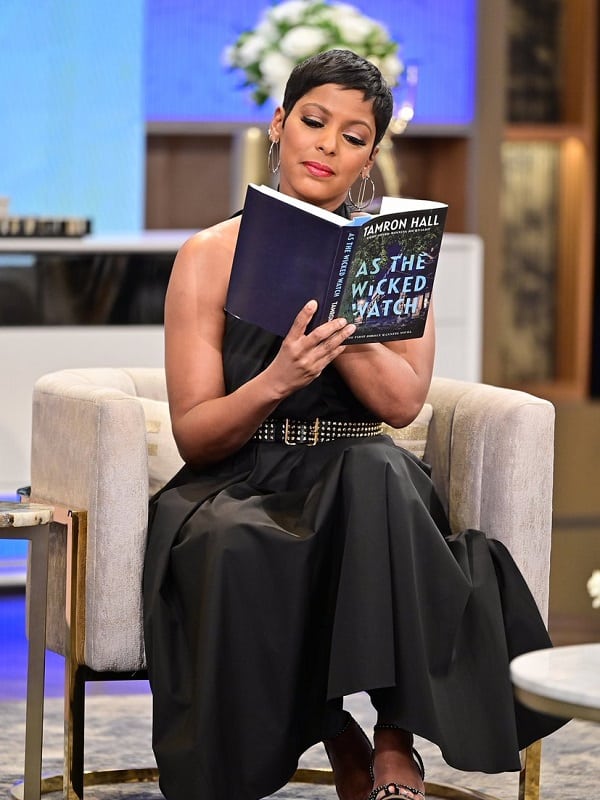 With over 20 years of journalism experience, years spent reporting on crime and tragedies across the country, and her own personal experiences, Emmy® Award-winning talk show host Tamron Hall is in the perfect position to launch this exciting new series.
Q. What larger themes were important to you in writing As The Wicked Watch (October 26, 2021, William Morrow)?
Tamron: The larger theme of relationships and friendships was important for me to include when writing this. We see relationships form between the victim's mother and unlikely allies and we see Jordan form relationships inside the newsroom and out.
Q. Jordan Manning—a journalist and a woman of color—leaves her hometown to pursue crime reporting in Chicago. How much of her story comes from your own experience? 
Tamron: It comes from my years of reporting, particularly two cases I covered in the same year, both involving the death of 11-year-olds. The circumstances couldn't have been more different, one took place in the city and one in a rural area. I covered both within a short period of time and through the years, I have always remembered these two cases. More than half of the experiences are from my own personal years of reporting. It would be impossible not to pull from 30 years of reporting, much of that being a reporter out in the field and on the street.
Q. As a debut novelist, how has the process of writing, publishing, and marketing your book defied your expectations?
Tamron: I loved the creative part. It was a challenge because most of it was written in the pandemic. The concept was born before we had a global pandemic and actually putting the thoughts to paper all through the pandemic had its own set of challenges. I had time at home but all of our stress levels were so high. I would always watch cable news at night consuming information on what's happening in the world. I tried to turn off reality and create this book, which at the time also dealt with something similar the world was going through. It was how people of color are treated. This book touches on that and we saw it happen in reality with the death of George Floyd. 
Q. What do you read, in any genre?
Tamron: Romance is my favorite genre!
Q. What are you working on next?
Tamron: I'm already a few chapters into the second book of the series. I am also working on a children's book.
As The Wicked Watch
When crime reporter Jordan Manning leaves her hometown in Texas to take a job at a television station in Chicago, she's one step closer to her a dream: a coveted anchor chair on a national network.
Jordan is smart and aggressive, with unabashed star-power, and often the only woman of color in the newsroom. Her signature? Arriving first on the scene—in impractical
designer stilettos. Armed with a master's degree in forensic science and impeccable instincts, Jordan has thus far been able to balance her dueling motivations: breaking every big story—and giving voice to the voiceless.
From her time reporting in Texas, she's sure she has covered the vilest of human behaviors, but nothing has prepared her for Chicago. You see, Jordan is that rare breed of journalist who can navigate a crime scene as well as she can a newsroom—often noticing what others tend to miss. Again and again, she is called to cover the murders of Black women, many of them sexually assaulted, most brutalized, and all of them quickly forgotten.
All until Masey James—the story that Jordan just can't shake, try as she might. A 15-year-old girl whose body was found in an abandoned lot, Masey has come to represent for Jordan all of the frustration that her job—with its required distance—often forces her to repress. Putting the rest of her workload and her (fraying) personal life aside, Jordan does everything she can to give the story the coverage it desperately requires, and that a missing Black child would so rarely get.
There's a serial killer on the loose, Jordan believes, and he's hiding in plain sight.