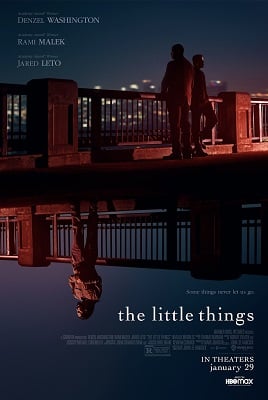 The Little Things
Rating:  R
Director:  John Lee Hancock
Premiere Date (Theaters):  Jan 29, 2021
In the 2004 NBA Finals, the LA Lakers lost a crucial Game 4 to the eventual champions that year, the Detroit Pistons, despite a monster 36-point, 20-rebound effort from Shaquille O'Neal. It was one of Shaq's last great performances as a dominant NBA player and was essentially the end of the Shaq/Kobe Era in LA. Occasionally my brain makes odd connections and this game (we will circle back to it at the end) was on my mind after watching The Little Things, a crime thriller from writer/director John Lee Hancock.
I am a big fan of the neo-noir procedural. There is a thrill to seeing partners work the case, follow leads, get a break, and eventually encounter the killer. You are almost assured to have some twists and turns along the way. Add three Oscar-winning actors to the mix (Denzel Washington, Rami Malek, and Jared Leto), and my interest jumps another level.
Hancock's film is set in 1990 Los Angeles, where Denzel's small town deputy sheriff, Joe Deacon, returns to LA where he used to be a detective. There just to pick up some forensic evidence, he finds himself drawn into the search for someone who has killed four women, spearheaded by the lead detective, Jim Baxter (Malek). Their investigation eventually leads them to a suspect, Albert Sparma (Leto), that checks off a lot of boxes, but there is enough ambiguity that it is not an open and shut case.
It is hard to believe that Denzel has not had a movie come out since 2018. One of the best, here he is giving a terrifically haunted performance, quite literally. Deacon is someone whose past follows him, specifically, one unsolved case which drove him from the city and to Kern County. At one point, pictures of the deceased on his hotel wall literally come to life and keep him company while he ruminates. It not an action-driven film and it is one of the better Denzel performances in recent memory. Additionally, Malek hold his own with Denzel, giving a compelling character-driven performance as the ambitious young detective who has a bright career ahead of him. While he is initially standoffish with Deacon, he eventually sees the value of this older cop that he can learn from. Sadly, Leto's performance feels like it is from a different film altogether. To put it kindly, he is definitely making some choices with his performance, which is becoming more and more a thing with Leto as an actor it seems.
The film is something of a passion project for Hancock. It is fitting that the story is set in 1990, because that is when it was first conceived and has been through several stages of development since then to get it made. It definitely feels like a throwback to the 90s in many ways. There are a lot of parallels to David Fincher's Se7en; beyond merely having an old cop/young cop dynamic. The Little Things is almost what it would looks like if Mills and Somerset had met five years later and if John Doe never confessed to being the killer. Like Mills to Somerset, Baxter was Deacon's replacement in the department. There is even a scene where Baxter has Deacon over for a homecooked meal. And while the climax of the film takes place outside of the city, thankfully, there is no "What's in the box?!?!?!" cribbing.
Sadly, while it is fun to watch two talented actors play off each other in Washington and Malek, and to a lesser degree with Leto's eccentric performance, the material is not as strong as the acting. If you are a sucker for a good procedural, it may be worth the two hours, but it is also familiar territory that has been done elsewhere and far better, both over the last 30 years but also in the recent past. In addition to Se7en, there's also been Zodiac, Gone Baby Gone, Shutter Island, Prisoners, and the terrific True Detective series on HBO that handle the haunted nature of police work, just to name a few. The Little Things really sags in the latter half and begins to meander before launching into the third act and settling on a morally ambiguous ending that does not feel entirely earned and may even frustrate some. Regardless, it is not the thought-provoking ending that it seems to think it is. I did find myself debating whether the film could have been expanded into an 8-part series instead and if that would have been better or worse.
Back to the Lakers. After Game 4, Lakers coach Phil Jackson said, "We just wasted one of the all-time great Shaquille O'Neal performances." I could not help but think of Jackson's quote after watching The Little Things. Shaq's career was not over in 2004, but he was reaching the end of his prime. Denzel, at 66 still likely has a lot of moviemaking left ahead of him, but it is fair to wonder just how many more great performances lie ahead. The Little Things is not a complete clunker, but given Washington's performance, the overall film feels like a wasted opportunity. Washington and Malek elevate this movie to being better than it should be.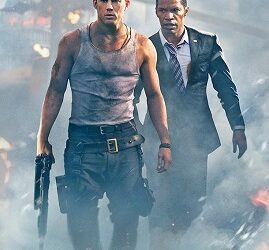 An over-the-top escapade that demands a suspension of disbelief
read more