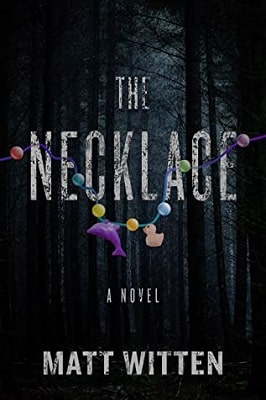 reviewed by Cara DiCostanzo
They say that losing a child is like walking around without a heart. This book proves that you can never stop an angry Mama Bear in her search for the truth.
The Necklace by Matt Witten is one of those books that leave the reader with what we call a "book hangover." They can't stop thinking about the world they set the book in. The story is over, but it remains with you for a long time.
Susan Lentigo lost her daughter, Amy, to a brutal murder and rape 20 years ago. The Necklace opens at a fundraiser being thrown for Susan so she can watch the execution of Amy's killer in North Dakota. The reader learns that Susan, a server, and her mother, Lenora, live in Upstate New York. Susan's friends and family have raised enough money to get her to the execution and back, but unfortunately, things don't quite go as planned. Within one day of her leaving, her car has broken down and her money stolen. But being the strong woman she is, she moves forward, eating leftover food in diners and sleeping in bus stations. She doesn't turn back.
Danny Lentigo, Susan's ex-husband, now lives in Tamarack, NY—two hours from Lake Luzerne, where she lives. They separated a year after their daughter was killed and haven't spoken since. The bus Susan has taken to North Dakota stops in Tamarack and she makes an impulsive decision to get off and see Danny. After the unpleasant visit, as she is leaving his office, she sees a picture of his daughter wearing the beaded necklace that was never found after Amy was killed. Susan leaves with the sense that maybe not all is as it seems, and they may execute the wrong person.
This book takes the reader on a wild ride and introduces a cast of characters who are all unforgettable in their own way. From Susan's elderly mother, Lenora, to Kyra, the rebellious teenager who assists her in finding the truth, to the retired FBI agent who convicted the original suspect.
Matt Witten is a former writer for Law & Order and his knowledge of crime and the legal system is a true benefit. He keeps the reader guessing until the very last page. And with each high and low, readers will want to keep going. You can't help but rally behind this mother seeking justice for her daughter and making sure the right man pays for the crime.
The death of a look-alike stranger leads a woman down a troubling path
read more