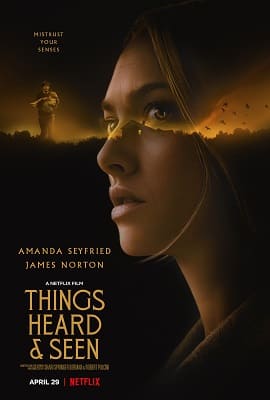 reviewed by John Chandler
Things Heard and Seen
Rating:  TV-MA
Director: Shari Springer Berman and Robert Pulcini
Premiere Date:  2021
The enchanting Amanda Seyfried does her doggone best as an unobservant wife coming to grips with her husband's dark side in the Netflix production Things Heard and Seen. She is typically radiant, even in sweatshirt and jeans, and shows plenty of intestinal fortitude.
Still, one wonders how bright she can be since her scheming husband George (James Norton) is about 96 percent dark side.
Based on the novel All Things Cease to Appear by Elizabeth Brundage, Seyfried plays Catherine Claire, an urban sophisticate from Manhattan who packs up her life and daughter and relocates to a small, upstate town called Chosen, when her hubby lands a gig teaching art history at a nearby college.
Their new home is a former dairy farm, and Catherine throws herself into making the place livable, but confesses to a friend on the phone that she feels isolated in the close-knit scholastic hamlet. George, meanwhile, hits on a visiting student from Cornell (Natalia Dyer).
No surprise, George is a lying, cheating, sociopath, a fact that becomes painfully obvious to everyone except Catherine, and eventually even she grows wise to his machinations and gaslighting.
Things get paranormal as both Catherine and her daughter Franny sense the haunting presence of the previous lady of the house, who was murdered by her own husband. Apparently it's a tradition that dates back to house's construction.
To further complicate matters, the sons of the deceased woman show up and ask Catherine for jobs as farm hands! Catherine ends up making out with older brother Eddie (Alex Neustaeder) after gradually realizing her husband is an amoral monster.
There are loose ends a-plenty (you could knit a sweater), but none more clumsy than George's obvious malevolence. He complains about Franny being scared of a real ghost and needing to sleep with her parents, thus denying him the opportunity to have relations with his comely wife.
There's a chance that poor George is under the influence of several generations of wife-killers on this Dairy of the Damned, but like Jack Torrance, he doesn't offer much in the way of resistance.
I confess to loving the ludicrous Biblical ending, which is straight out of a Wendy Webb novel. The last we see of villainous George is on a sinking sailboat to hell before the scene morphs into a George Innes painting that ties together a few of those loose ends I mentioned earlier.
I think writer-directors Shari Springer Berman and Robert Pulcini crafted themselves a batty, but entertaining thriller. If you can accept a few gaping plot holes, Things Heard and Seen is definitely worth a gander.