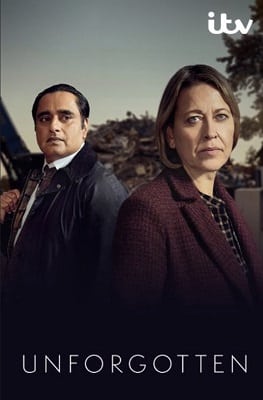 Unforgotten
Rating:  TV-MA
Creator: Chris Lang
Run Date:  2015 – present
Unforgotten is a British police procedural featuring a unit tasked with investigating unsolved cold cases. So far, four six-episode seasons have aired, with a fifth season to follow.
First, the most important part – watch these seasons in sequential order, and if you have started watching the fourth season out of order, STOP. Also, do not read anything about the fourth season. All one really needs to know is that this is one of the premier criminal investigation programs produced and crafted with care and fine acting all around.
As each season unfolds, this is one of those series that progresses in character development as it moves forward and this allows the viewer to genuinely create a bond with the characters of the program.
In Unforgotten, Nicola Walker portrays DCI Cassandra 'Cassie' Stuart as the supervisor of the unit tasked with these investigations. Alongside her is her loyal number two DI Sunil 'Sunny' Khan, portrayed by Sanjeev Bhaskar. Khan plays the stoic and methodical investigator to Stuart's compassionate and empathetic tireless pursuer that wears her heart on her sleeve.
In this role, Nicola Walker excels like never before and wears the grief and pain upon her face as if they had been etched there.
Each season deals with a new case that involves the unearthing of a long-dead human body in what at first looks like unsolvable cases. As the cases go in, through persistence and dogged inquires more and more evidence is discovered, oftentimes in the most unlikely of places. Evidence in each case is also discovered in logical and possible ways and with no embellishment often found in programs like the popular CSI series.
As the series moves on, each season grows in complexity and depth, which also includes subplots involving the families of Stuart and Khan. These subplots evolve and build upon the stories of the main characters and will be very rewarding to the viewer if the seasons are watched in order and if viewers avoid any potential spoilers.
Season One involves the investigation of a body discovered as a building is being demolished, with the detectives learning the body has been buried since as least 1976. Season Two involves the discovery of a body placed in a suitcase and thrown in the water and Season Three entails a long-buried body discovered through excavation at a construction site. Season Four depicts the locating of a headless and handless body found in a dumped refrigerator in a junkyard and is the most powerful of all four seasons.
Season Four of Unforgotten is currently being aired on PBS stations and each of the first three seasons is available through streaming.