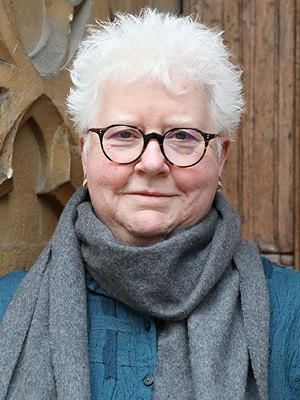 Val McDermid is a No. 1 bestseller whose novels have been translated into more than thirty languages, and have sold over eleven million copies.
She has won many awards internationally, including the CWA Gold Dagger for best crime novel of the year and the LA Times Book of the Year Award. 
Q. Your latest, Resistance, centers around a mystery illness that's spreading fast. What inspired the story? How much did the global pandemic affect the later stages of the book's editing, production, or release?
Val: The Wellcome Trust, a medical charity who support a wide range of research and education programmes, run an annual initiative that brings together radio dramatists, radio drama producers and scientists to brainstorm. The aim is that the writers will come up with ideas for radio drama that the BBC will produce and broadcast. Every year Wellcome choose a different theme, and when I was invited to participate in 2016, the theme was anti-microbial resistance. We listened in growing horror to the introductory session from Sally Davies, the Chief Medical Officer of England & Wales, who said, in essence, the drugs don't work, there's a plague coming and it will kill millions, if not billions.
By the end of her presentation and my conversations with other scientists, I knew the only thing I wanted to write was an apocalypse – a wake-up call to us all to change our behaviour. I pitched my idea and I was commissioned to write a three-part drama for BBC radio that was broadcast in 2017.
It was very well received and Wellcome asked me if I'd be willing to do a novelisation. I didn't want to revisit something I'd already done, but then my partner, who happens to be a global health expert, suggested a graphic novel might fit the bill. It was an idea that excited us all, and so we set about finding an artist who could do it justice. And we struck lucky with Kathryn Briggs, a young American who at the time was working in Scotland. Kathryn did some sample pages and we were all delighted with the range of her graphic realisation of the story. She set to work.
She was almost finished when COVID intervened. We carried on with the production process, and it was ready to roll a year ago. At that point, COVID was raging and there was no cure or vaccine in sight. We all felt it would be irresponsible to publish Resistance then; we feared it would cause upset and panic in readers and we absolutely didn't want to do that.
The arrival of the vaccine changed our perspective. Although COVID is still raging in many parts of the world and death tolls are still heartbreaking, the vaccine has given us hope. And the experience has, I hope, taught us some valuable lessons about our behaviour and our expectations, lessons that are mirrored in Resistance. What the book and our own experiences offer is a guarded hope for the future, I think.
Q. Outside your fiction, you're an outspoken voice on Scottish independence. How do your views make their way into your writing? What is the role of a modern storyteller in political and cultural commentary?
Val: No writer can escape their own world view. We all draw on our experience and our convictions. When those convictions echo the status quo, nobody notices or refers to them as 'political.' When we try to reflect a wider view of the world, a view that's not consonant with that of the reader, that's when people notice. My fiction is not polemical; I simply try to reflect what I see around me. Scots have been having an ongoing conversation among ourselves for the last forty years about the status and future of our country, and anyone writing in modern Scotland will have a position on this, some more overtly than others because some stories demand it more than others. My job as a writer is to tell stories that entertain, first and foremost. Beyond that, I try to write stories that reflect the society I live in and that raise questions I hope will provoke thought. It's not my job to proselytise or send messages.
Q. Many publications, including this one, accept you as one of the great crime fiction writers of all time, with your work compared to Ruth Rendell, the godmother of crime fiction, among others. Who were your influences?
Val: My influences are many and varied! From Robert Louis Stevenson to Ruth Rendell, from Jane Austen to Sara Paretsky, from Agatha Christie to Patricia Highsmith. I was a voracious and catholic reader as a child – my main requirement was not to be bored – and I think it's fair to say that's what I've remained.
Q. Are there any crime fiction writers out there now who aren't getting the attention they deserve?
Val: That's as true now as it's always been! Luck has always played a part in literary careers. Among the current crop of British writers, I'd bang the drum for Mary Paulson-Ellis, William Shaw and Eva Dolan. When any of them have a new book, it goes straight to the top of my TBR pile.
Q. What are you working on next?
Val: I've just put this year's book to bed. It's called, simply, 1979, and it's the first in a planned quintet of crime novels set at 10-year intervals with the same protagonist, though I envisage her taking on slightly different roles. Allie Burns starts out as a young journalist in Glasgow with a burning ambition to be an investigative reporter. It'll be fun to look at all the changes over the years – forensic, technological, social and political. So right now, I'm researching the late 1980s – the growth of media empires, the death of the Soviet empire and some pretty cool music.
Resistance
Journalist Zoe Meadows has taken a break from hard-hitting investigative reporting to spend more time with her family, which is how she finds herself doing celebrity Q&As at an outdoor music festival near the Scottish border. She and her friends, who run a food truck, head north, along with 150,000 festival-goers for a weekend of music and camping.
Then, some of the food truck's customers begin to fall ill, and many point to food poisoning. But when the festival ends and the attendees scatter across England, more people begin to get sick and die. What's worse, it is spreading fast and baffles doctors, resisting all efforts to contain or cure it. With time running out, Zoe is compelled to fight for the truth, even as she loses that which she holds most dear.