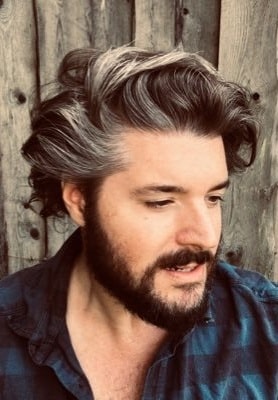 Will Dean's Dark Pines—the first in the Tuva Moodyson series,  published to huge critical acclaim in 2018—was shortlisted for Not the Booker prize, selected for Zoe Ball's TV Book Club, and named as a Daily Telegraph Book of the Year. The Last Thing to Burn is his first standalone novel.
Q. Your latest novel The Last Thing to Burn has shades of Stephen King's Misery and is coming out (April 2021) with strong reviews. What should readers expect in this thriller?
Will: The Last Thing to Burn is a tense, atmospheric thriller set on an isolated fenland farm in England. As well as Misery by Stephen King it's also been likened to Room by Emma Donoghue. There are only two main characters: one is keeping the other captive. It's claustrophobic and suspenseful, but it's also a story of love and family and resilience.
Q. Deep personal question of enormous importance: For The Last Thing to Burn, which cover – UK or US – do you prefer?
Will: That's like asking me to choose between my St Bernard and my giant Norwegian forest cat! Honestly, I love them both. I write the stories but there's a whole team of brilliant people who make each book. The creatives are incredibly talented and I am in their debt. The US cover is beautiful. It's subtle and menacing. The UK cover is just as bold and eye-catching. They both give a glimpse into the heart of the story.
Q. Do you really live in the middle of a Swedish forest? How does this setting affect your writing style?
Will: I really do.
I live with my wife and son in a small clearing at the center of a vast moose forest in Sweden. We have no direct neighbors and our life here is quiet and simple. I found the land on the internet in 2009 (it was very cheap – no Swedes wanted to live here) and started building our wooden house later that year. It took me a while. We use logs to heat and cook, and we take water from our own well. It's quite an old-fashioned life – there's lots of physical work to manage firewood and rebuild our dirt track – but there's also lots of time for reading and writing.
I'm not sure how my forest life impacts my writing. The peace and quiet helps. There are no shops or coffee shops or restaurants here. Zero distractions.
I tend to write small, claustrophobic settings so perhaps there's a link there. I'm fascinated with the intersection of landscape and character: learning how different people cope in different places, and how their relationships evolve.
Last year we adopted a small St Bernard. He is no longer small. Bernie is wonderful to have around in the forest and I enjoy writing while he snores next to my desk. 
Q. Your writing is steeped in Nordic Noir. As a Brit writing in that tradition where do you draw inspiration? Who are your favorite writers in any genre?
Will: My Tuva Moodyson series is set in Sweden and is very much rooted in the culture and nature of Scandinavia. But my standalone stories (The Last Thing to Burn is my first standalone) explore the rest of the world. I draw inspiration from the wilderness and from local characters, from my family and friends, from the stories I read and watch. I'm an extremely curious person.
I have so many favorite writers. Stephen King has been a favorite for many years – I love his novels and short stories, and also On Writing – such a generous and comforting book for so many authors. I'm a fan of Sarah Waters and Michel Faber and Yaa Gyasi and Shirley Jackson and Abir Mukerjee. Liz Nugent and Adrian McKinty are also superb. I like to reread Muriel Spark and Patricia Highsmith (and Bill Bryson). Cormac McCarthy is another great – I think The Road is a masterpiece.
Q. What are you working on now?
Will: I've just delivered the next standalone thriller to my editor. It's set in New York and it's wild. The story explores sibling dynamics, identity and vengeance.
On an isolated farm in the United Kingdom, a woman is trapped by the monster who kidnapped her seven years ago. When she discovers she is pregnant, she resolves to protect her child no matter the cost, and starts to meticulously plan her escape. But when another woman is brought into the fold on the farm, her plans go awry. Can she save herself, her child, and this innocent woman at the same time? Or is she doomed to spend the remainder of her life captive on this farm?
Intense, dark, and utterly gripping The Last Thing to Burn is a breathtaking thriller from an author to watch.
More Atmospheric Thrillers