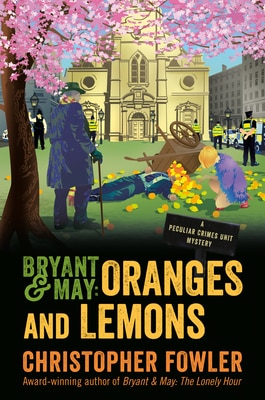 Bryant & May: Oranges and Lemons
Bryant & May: Oranges and Lemons by Christopher Fowler blends wonderful humor, an odd mix of characters, multiple mysteries, and some London facts and history into a terrific crime novel.  
When Speaker of the House of Commons, Michael Claremont, is injured in an odd accident, the recently disbanded Peculiar Crimes Unit (PCU) is reassembled for one last case. However, they are going to have to cobble together a work space in their old building since the Home Office's police liaison CEO, Leslie Faraday, tore it apart after they were disbanded. He tries to derail the PCU at every turn.
The PCU is filled with characters that seem inept at ties, befuddled at other times, and competent at still other times. Somehow, they mesh together and manage to solve cases. Their unit chief is Raymond Land, who is inept with computers and often kept out of the loop. Arthur Bryant and John May are the detective chief inspectors. Arthur's mind works differently than most peoples' minds and therefore many don't understand him or his methods. John provides a counterbalance to Arthur, but he is recovering from a bullet wound. Additional team members fill out the roles of detective inspector, crime scene, detective sergeant, forensic pathologist, and new in this book, an intern. Bryant seems to be the glue that holds the team together, but we also get to see some of the private lives of the secondary characters.
The plot is focused on a British nursery rhyme of Oranges and Lemons and the churches that the rhyme references. Who would have guessed that this could be such an entertaining read? The reader has more information than the investigators in this case, since we get occasional chapters from the antagonist's point of view that give us motive.
Overall, this is a hilarious, well-written, and original crime drama that kept me entertained and engaged. Additionally, I learned something about London's history. There are some surprises along the way that keep the story interesting and alive.
I don't usually start a series with number seventeen, but this one worked well for me as a standalone novel. I am sure that reading the earlier books would provide additional background and add richness to the reading experience and I can't wait to go back and read them. If you like unique characters, lots of humor, unorthodox crime solving, and lots of humor, then I recommend that you check out this series.
I won a digital copy of this book in a Goodreads Giveaway. Opinions are mine alone and are not biased in any way.