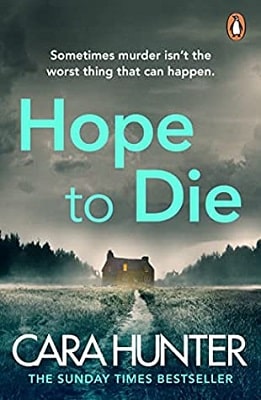 reviewed by Carolyn Scott
Cara Hunter's DI Adam Fawley series is fast becoming one of my favorite series. Set in Oxford, with it's now signature mix of narrative with police reports, social media comments, emails, online news and podcasts, the novels perfectly blend the ups and downs in the lives of Adam and his team with delivering intriguing crimes and mysteries.
In this sixth novel in the series, police are called out to a remote house in response to the report of a gunshot, heard by a man out photographing the stars. When they arrive, they find an elderly couple, Richard and Peggy Swann, with the body of a young man in their kitchen. The dead man, his face been destroyed by a blast from a shotgun, is holding a knife in his hand and the Swanns claim they woke to him breaking in and shot him in self-defense. However, they not only failed to call the police but some of the evidence also doesn't add up to this being an attempted burglary for Adam.
Looking into the Swanns background, Adam later discovers that they are not the bland, innocuous couple they claim to be. They changed their name and moved to Oxford seventeen years ago after their daughter Camilla was convicted on circumstantial evidence of killing her baby. Her baby's body was never found but, after keeping her pregnancy secret from her family and friends, he simply disappeared the day Camilla left hospital with him and her explanations of what happened to him were vague and inconsistent.
It's good to see that Fawley is in a much better place than in the previous book, where he was being framed for a shocking crime. He's enjoying his new baby daughter Lily with his wife Alex and his career is looking up. He has a dependable team who work hard to identify the mystery 'burglar' and his link to the Swanns. New members DC Hansen and DC Chloe Sargent are talented and I look forward to seeing more of them. However, DC Bradley Carter currently filling in for the missing DC Somer is surely heading for a fall after his underhand tactics at getting noticed by the boss. Hunter's excellent outline of the characters at the start of the book is a wonderful memory refresher for fans of the books and would also be helpful to those new to the series.
In the acknowledgements, Hunter notes that Camilla's history of multiple unplanned and secret pregnancies, resulting in two babies given up for adoption in addition to the missing baby, is based on the case of Australian Keli Lane. It's truly a case of fact being stranger than fiction and worth looking up the reports or podcast made about it after finishing the novel.
Hunter's imagining of what happened to Camilla's baby results in a fast paced, intricate plot, filled with suspense and some great twists. It really is an intriguing case. Fawley finds himself interviewing Camilla in prison and she truly is just as slippery and unhelpful as reported in her original interviews. A brilliant read, recommended for all fans of crime fiction.
With thanks to Penguin via Netgalley for a copy to read.