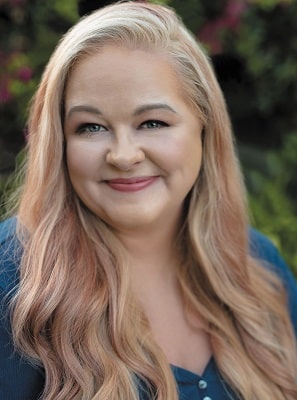 Kate Quinn is the New York Times and USA Today bestselling author of historical fiction. A native of southern California, she attended Boston University where she earned a Bachelor's and Master's degree in Classical Voice. She has written four novels in the Empress of Rome Saga, and two books in the Italian Renaissance, before turning to the 20th century with The Alice Network, The Huntress, and The Rose Code.
Q. The Rose Code (March 9, 2021) is coming out to roaring early acclaim. For those who have yet to get it on their shelves, what's this historical suspense standalone all about?
Kate: At the start of World War II, three very different women are called to mysterious Bletchley Park where the best and brightest minds in Britain train in utmost secrecy to break the supposedly unbreakable Axis military codes–but the real challenge lies after the war, when the three best friends-turned-enemies realize there is one final code to crack if they are to catch a traitor in their midst.
Q. The Alice Network, your 2017 hit, is also about female spies in the era of World Wars. How is it similar and different from your latest?
Kate: The Alice Network was about women spies in enemy-controlled France; the danger to their lives was constant and critical. The women of The Rose Code aren't spies, they're codebreakers–their war is fought intellectually, mentally, and emotionally rather than physically. They may not have faced as much physical danger as women spies in the occupied zone, but their fight (even though it was all interior) was just as fierce, the stakes just as high, and the cost to soul and sanity could be just as crushing.
Q. You've written at books in many historical settings, from the Roman Empire to the Italian Renaissance. If you had to (got to?) live in one of your 20th Century or Classic time periods and places, which would you choose?
Kate: None, thank you. I prefer to do my time-traveling inside the pages of a book—this last year has taught me the tremendous appeal of living in a time that has vaccines!
Q. It's no surprise that you've said elsewhere you're a voracious reader. Have you read anything especially good recently?
Kate: Sadeqa Johnson's Yellow Wife was a heart-ripper of a story about an enslaved woman who fights for the freedom of herself and her children in the infamous Devil's Half-Acre jail. Melanie Benjamin's The Children's Blizzard is a nail-biter about a historical blizzard on the plains, fatally testing the lives and decisions of two young sisters working as schoolteachers. Silvia Moreno Garcia's Mexican Gothic is a book I'm still thinking about, like the tale of Bluebeard set in 1950s Mexico City. And Stephanie Dray's upcoming The Women of Chateau Lafayette brilliantly weaves together three women, three wars, and one gorgeous French castle into a tale of revolution, democracy, and women who won't give up!
Q. What are you working on now?
Kate: My next book is tentatively titled The Diamond Eye, all about the World War II Russian girl who became history's most deadly female sniper. Lyudmila Pavlichenko was a mild-mannered single mother in grad school, who dreamed of being a historian once she finished her dissertation…but the Nazi invasion of Russia sent her on a different path, where she earned the nickname "Lady Death" and racked up a tally of 309. She also went on a goodwill tour of America in 1942 and befriended none other than Eleanor Roosevelt–I can't wait to tell her story!
940. As England prepares to fight the Nazis, three very different women answer the call to mysterious country estate Bletchley Park, where the best minds in Britain train to break German military codes.
Vivacious debutante Osla is the girl who has everything—beauty, wealth, and the dashing Prince Philip of Greece sending her roses—but she burns to prove herself as more than a society girl, and puts her fluent German to use as a translator of decoded enemy secrets.
Imperious self-made Mab, product of east-end London poverty, works the legendary codebreaking machines as she conceals old wounds and looks for a socially advantageous husband.
Both Osla and Mab are quick to see the potential in local village spinster Beth, whose shyness conceals a brilliant facility with puzzles, and soon Beth spreads her wings as one of the Park's few female cryptanalysts. But war, loss, and the impossible pressure of secrecy will tear the three apart.