reviewed by Aaron McQuiston
Gothic horror has some tropes that make it "gothic." A large, crumbling mansion, a convoluted family history, usually a family living off of money earned generations ago, a marriage or two that hints of incestuous coupling, unhappiness and violence, and a stranger called to the mansion for one reason or another.
Some great examples of gothic horror are Rebecca by Daphne Du Maurier, Dracula by Bram Stoker, The House on Haunted Hill by Shiley Jackson, and The Woman in Black by Susan Hill. Mexican Gothic by Silvia Moreno-Garcia fits so well into the pocket of gothic horror that it is a great place to start for any reader who is curious about this subgenre.
Mexican Gothic starts with in 1950s Mexico City with a woman, Noemi, getting a telegram from her cousin, Catalina, who says that the family she married into, the Doyles, are trying to poison her. Noemi decides to visit her so she travels to Hill Place, a remote, decaying mansion, built by the family through the profits of a now defunct silver mine. She arrives and within pages strange things are happening. Another thing about gothic horror is that the pacing is usually slow. Moreno-Garcia builds up the tension between Noemi and the family who does not appreciate her meddling in their family affairs. For the first 200 pages, the lies and suspicion get deeper and deeper. The story is interesting, and I did not spend any time wondering when the novel will get better, but Moreno-Garcia spends her time putting all of the pieces into place before exposing the grotesque picture. Even though the first two-thirds of the novel are about family secrets and mystery, once the true nature of her visit is unveiled, the reader is still not ready for the real horror to begin.
Silvia Moreno-Garcia has made a name for herself in her short career. This is her sixth novel in five years, Mexican Gothic is one that has put her name in the mouths of many horror fans, earning the 2020 Goodreads Best Horror book of the year (beating out Stephen King's latest by 40,000 votes), not only is this a stunning book, but it also marks the beginning of a new generation of horror writers that are making horror one of the best genres to read at the moment. Mexican Gothic is a monumental novel and definitely one that deserves the recognition it is receiving. With Moreno-Garcia releasing a book or two every year, all of them varying drastically from the one before, she is very well setting herself up to be one of the most important horror and suspense novelists of our time.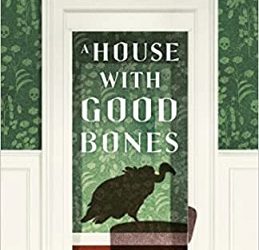 She needs to find out what's got her mom so frightened in her own home
read more