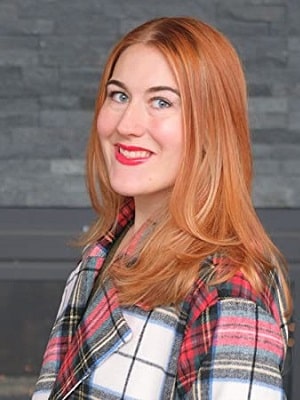 http://www.maiseyyates.com/
New York Times and USA Today Bestselling author Maisey Yates lives in rural Oregon with her three children and her husband, whose chiseled jaw and arresting features continue to make her swoon. She feels the epic trek she takes several times a day from her office to her coffee maker is a true example of her pioneer spirit.
Interview by Elise Cooper
Q How did this series come about?
Maisey: This is book two of twelve books. Each family of Four Corners will have a story. The series came about because I wanted to do something different. As a set up the ranch is the focus, not a town. I hope it feels more wild -wild West. This story brought back some of my old families, reconnecting with the Garretts of the Copper Ridge series and the Donnelley's. I put this between Copper Ridge and Gold Valley so that there could be some cross overs and cameos.
Q How would you compare the two half-brothers, Wolf and Sawyer?
Maisey: I liked playing around with the fact they are opposites. They have a sibling dynamic of the responsible, older brother, Sawyer. He has a bright side, levelheaded, and reasonable. They see and react to the same situation differently. Wolf, the younger brother, is darker, more intense, a bad boy, not patient, cynical, introverted.
Q How would you describe Violet?
Maisey: Sweet, optimistic, feisty, tentative, shy, and someone who wants to be taken seriously. She is a past character I had who was a teenager, the daughter of one of my past heroes. Then she was in a bad space because her mother left her, and her dad moved her across the country. She was angry and rebellious. In that book, Down Home Cowboy, her dad marries Alison Davis who was Violet's boss and mentor. Violet's life changed because she now had the support of both her dad and Alison.
Q What was the role of both Violet and Wolf's mothers abandoning them?
Maisey: This is a place where they can connect. They each handled it differently. Violet had an involved parent, her dad, while Wolf did not. They can relate to each other. This connects to how they feel in becoming parents themselves. Both feel deserted, angry at times, from a broken home that has caused hurt.
Q There is a scene in the bar that reminded me of the Tim McGraw song, Real Good Man. Is that what you based Wolf's attitude on?
Maisey: I do not know that one. I was thinking of I Need You, a song of his. I love that song. Tim McGraw is usually a factor. Although "Real Good Man" does suit Wolf well. They both were attracted to each other, but even after Violet told him how she feels he abandoned her. Their whole dynamic is inside out because they slept together, she became pregnant, and they agreed to marry before a committed relationship.
Q How did the "Willy Wonka" reference come into play?
Maisey: It is from the book, Down Home Cowboy, where Cain, Violet's dad, calls her Violet Beau. It was a wacky nickname, that came from something weird. It is a parent relationship intimacy. He called her it from the time she was little and then never stopped.
Q What's next?
Maisey: In the Four Corner series the title will be Cowboy Wild, Elsie, and Hunter's story, out in February. It is intentionally reminiscent of Bad News Cowboy, that I wrote years ago. It has the tomboy heroine and the older brother's best friend.
My women's fiction comes out in May, titled One Little Spark. It will be under the name, Elli Banks because it is a suspense/romance novel. The core of the story is suspense surrounding a town that gets burned to the ground.
Come Back Cowboy comes out in April, and is written with the other authors, Nicole Helm, Caitlin Crews, and Jackie Ashenden. Four women come back to a camp for wayward children. Three of them were juvenile delinquents and my heroine is not, the outsider. None of the four are friends and were enemies.
Merry Christmas Cowboy by Maisey Yates is a deep emotional romance that has love, family, and friendship.
Cowboy Wolf Garrett has deep wounds after losing the love of his life in high school and having his mother abandoned him. He decides to take a trip to his extended family's ranch in Copper Ridge to have a change of scenery. His cousins made him a reservation to stay at a bed and breakfast Inn. There he encounters Violet Donnelly, the innkeeper, where both have an instant attraction.
The problem is that Violet is innocent and does not have the experience to handle Wolf. He knows she is not his usual type of woman, but he sees nothing wrong with a two-week romance, especially after he is upfront with her and tells her he will be leaving to go home. Two weeks later he leaves, with Violet feeling like she was abandoned. To make matters worse the secret intimate nights they had together has left her pregnant. Since both were abandoned by their mothers, and neither wants their child to feel the same, they agree to get married.
This should remind readers of the Tim McGraw song "Real Good Man." The lyrics "I might have a reckless streak at least a country mile wide. If you're gonna run with me it's gonna be a wild ride. I may be a real bad boy, but I am a real good man." He was reckless in not taking precautions when being intimate with Violet, knowing she was a virgin. But he was a real good man, stepping up to the plate, and having her come home with him for the holidays and then marrying him.
This is a deeply moving and heart wrenching story. Both the hero and heroine have complicated and complex lives with issues they must overcome.