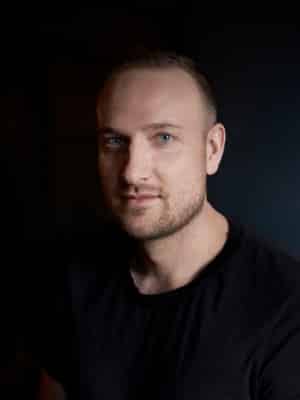 Max Seeck's debut trilogy following protagonist Daniel Kuisma sold over 50,000 copies in Finland. His new Jessica Niemi series landed him on the New York Times Bestseller list! In Faithful Reader, AKA The Witch Hunter (US title), book 1 of the Jessica Niemi series, Helsinki Police Detective Jessica Niemi hunts an occultist serial killer. In Evil's Net, AKA The Ice Coven, Jessica and her team follow clues hidden on Instagram to solve the disappearance of a young influencer and a manga artist.
Q The Ice Coven is the second book in your Jessica Niemi series. What inspired this one?
Max: I think I got the inspiration one day while browsing my Instagram account and thinking that I might be followed by a crazy person. That idea led to the main plot of the book, even though the story actually is about something else. The book is a standalone novel, but readers will definitely get an extra 10% out of it if they've read the first installment of the series.
Q The Witch Hunter is the story of a murderous group that goes after people they think are witches, with their murders are copied from a bestselling author's work. How has this been received internationally?
Max: The Witch Hunter was my 4th novel and the first that gained wide international success. It was a bestseller not only in Finland but also in the US, Germany, Sweden, and Denmark, just to name a few. What surprised me the most is that people who usually do not read whodunnit-novels and thrillers are liking it and sending amazing feedback.
Q Famously, you write in your native Finnish. How does the translation work?
Max: I don't think I could ever do creative writing in any other language than Finnish, excluding movie screenplays where the writing is more descriptive.
So obviously my work needs to be translated by someone very talented and I'm lucky enough to have such a person. Fortunately, I'm fluent with English so I'm able to read the translation and make suggestions and corrections if needed. But I usually don't intervene with the creative part of the translation.
Q What do you enjoy reading, within and outside of Nordic Noir?
Max: I tend to read a lot of different genres. Lately I've been enjoying books from such authors as Joel Dicker, Paul Auster and Charles Bukowski.
Q What are you working on now?
Max: Right now, I work as a writer and director for a Finnish feature film, set to be released in 2022. It's another dream come true and a truly challenging and inspiring task.
The Ice Coven
Six months have passed since Jessica's encounter with the mysterious serial-killing coven of witches and the death of her mentor Erne. Her nightmares about her mother and the witchcraft that undid her have only gotten worse, but she's doing what she can to stay focused. Her homicide squad, now under new leadership, has been given a murder case and a new series of disappearances to investigate. A young woman's corpse has washed up on an icy beach, and two famous Instagram influencers have gone missing at the same time.
The missing influencers and the murdered woman all have ties to a sinister cult. Jessica finds an eerie painting–of a lighthouse on a frigid island–as she investigates and under the picture is a gruesome poem detailing a murder. The nightmares about her dead mother have intensified and seem all too real, making Jessica wonder if the woman might be trying to tell her something about the killings. And as Jessica works frantically to solve her latest case, her terrifying past and the coven of witches that almost killed her shockingly reemerge and threaten to destroy her.