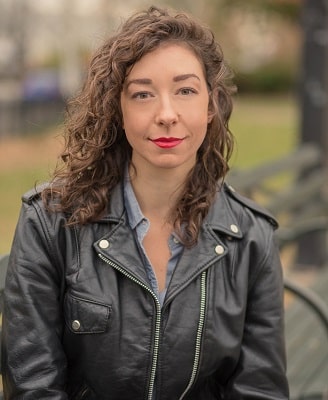 Andrea Bartz is a Brooklyn-based journalist and author of the forthcoming thriller The Herd. Her debut thriller, The Lost Night (Crown, 2019), is being developed for TV by Mila Kunis. Her work has appeared in The Wall Street Journal, Vogue, Cosmopolitan, and many other outlets.
Q. Parade Magazine assigned The Herd to its Best New Fiction category and Oprah Magazine named it one of the best beach reads of the year. But with few going to the beach this year, how does a writer earlyish in her career promote during the pandemic?
Andi: The Herd came out March 24 (the same week that bookstores across America shut down), so the timing wasn't ideal. I had to cancel my six-city book tour, which was a bummer—it's my favorite part of the process, meeting booksellers and readers and celebrating with loved ones. But I was able to pour my energy into virtual events instead, and it was very cool to have friends and fans across the world (including my buddy in Australia!) join in in real time. I do hope virtual events remain part of the book-promotion circuit even after bookstores begin holding readings again.
The manuscript for my third book was also due in April, and I worked on revisions over the summer, so I've kept busy even amidst the pandemic. The thriller, titled We Were Never Here, is about two globe-trotting best friends whose relationship is stretched to the limit after they kill a backpacker in self-defense on a trip through Chile. It's coming out in Summer 2021, and I've been grateful to have something keeping me busy as I'm stuck inside, waiting out the pandemic.
Q. The Herd and The Lost Night are both set in NYC/Brooklyn. How is setting important to these books? 
Andi: Setting is like an additional character to me—I love finding close-knit, closed-door social milieux in which to set a whodunit, because those kinds of communities guarantee complex social dynamics and juicy relationships. In The Lost Night, I took the reader inside the warehouse parties and late-night antics of hipsters in circa-2009 Brooklyn—a moment in NYC history I hadn't seen immortalized in book form. And for The Herd, I set the drama within the beautifully confines of an elite, all-female coworking space, with rose-gold accents and gorgeous sun-drenched lighting…a setting packed with competitive, ambitious women that's ripe for drama. I think what makes the settings feel fresh is the specificity—anyone can come to New York, but only a select few can make it into these exclusive clubs.
Q. How has your work as a travel writer informed your thrillers?
Andi: I was a health and lifestyle journalist for a while before I got into travel-writing, and the ability to take editor feedback without getting my feelings hurt and to produce under a deadline have both served me well as a novelist. Travel is a passion of mine, and it serves as a source of inspiration even when my novels aren't directly about the destination. Foreign places seem to rely jog ideas and jolt my brain in fresh directions. Of course, We Were Never Here is about two best friends who love visiting far-flung, exotic locales together, so I got to work in some real-life details from trips to Uganda, Chile, Vietnam, and other great destinations.
Q. You've tweeted positively  about The Princess Bride. What are some other stories (in any medium) that you enjoy?
Andi: I was tweeting about The Princess Bride because the cast reunited for an awesome live script reading to raise funds for WisDems—everyone should check out the replay!
Some excellent thrillers released in 2020 include Behind the Red Door by Megan Collins, All the Broken People by Leah Konen, Little Secrets by Jennifer Hillier, White Fox by Sara Faring, The New Girl by Harriet Walker, Pretty Things by Janelle Brown, and They Wish They Were Us by Jessica Goodman.
Some incredible forthcoming books I got to read include The Girls Are All So Nice Here by Laurie Elizabeth Flynn, If I Disappear by Eliza Jane Brazier, and Just One Look by Lindsay Cameron. I'm a sucker for a slick page-turner with some real depth to it, and these books all fit the bill.
The bestselling author on POINT LAST SEEN and more
read more