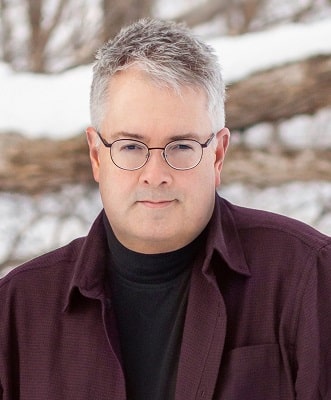 Brian Freeman is a New York Times bestselling author of action thrillers, crime thrillers, and psychological thrillers. His books have been translated into 22 languages, and the Robert Ludlum estate and Putnam have chosen him as the official author to continue the Jason Bourne franchise. 
Q. From your debut, Immoral, that won the Macavity Award for Best First Novel, to your role taking over Robert Ludlum's Bourne series, to your latest, Funeral For A Friend that's just released to acclaim, you've had an exceptional career from the beginning. Have there been struggles, too?
Brian: This is my 15th anniversary in the book business, and after 22 novels published around the world, yes, it's been an amazing ride. But this has always been a tough, tough industry. Before I broke through with Immoral, I wrote five books that are still sitting in my nightstand drawer. And even after the success we had in the early years, there were days when I seriously thought about leaving the business. The 2009 recession took an incredible toll on the publishing industry, and we lost a lot of great booksellers and a lot of great authors, too.
I switched publishers a couple of times to get a fresh start, and I built new relationships to diversify my book projects. The result has been some amazing opportunities, like writing my Audible Original The Deep, Deep Snow and taking over the Jason Bourne series. At the end of the day, I'm very proud to still be making a living in this business after all these years – but I never take success for granted, and I'm working harder than I ever have before. Fortunately, I love what I do!
Q. Let's talk Funeral For A Friend. Why is the Upper Midwest such a great setting for cold case murder? And where does this chapter in the Jonathan Stride series take us?
Brian: I like to write thrillers with an emotional core. I don't write about super-heroes or super-villains. Instead, I like to create real, flawed characters who are always struggling to do the right thing. That's Jonathan Stride.
Funeral For A Friend is the tenth Stride novel, but I wrote the book like a stand-alone so you can easily dive into the series here. You learn a lot about Stride in this book – his past, his mistakes, who he is as a man. I love that readers tell me they were in tears by the end of Chapter 1, when Stride is dealing with loss of his best friend, Steve Garske, to cancer. It's a very wrenching scene – and then Stride's entire world is turned upside-down by Steve's deathbed confession.
As for the Midwest…well, all those rural lands and long winter nights definitely make for great drama! That's what I love about Duluth as a setting for the Stride novels. It's got amazing natural beauty on the shore of Lake Superior, and I don't like to trap my characters indoors. It's also big enough that you can imagine dark things happening there – but small enough that you always seem to be bumping into your past around every corner. That's a theme that comes up again and again in the Stride novels.
Q. Your wife, Marcia, is a major player in your professional career. What has it meant to have this extra support? What role does she play?
Brian: I really couldn't make it in this business without Marcia's help. She's my first editor – and she's got a better eye than just about anyone else in publishing. Her input always makes the books better – even though (ahem) it's not easy taking criticism from your spouse! She also manages all of my events, works with the publicity teams at my publishers, and manages our social media profile. So it's a real partnership.
Fortunately, we love spending time together and always have. That's why we got married – thirty-six years ago! We can work at home, and we can work together, so that's a perfect arrangement for us. Of course, being self-employed is a tough, intense road. There are days when we'd love to get a little distance from it, but that's just not the nature of the business.
Q. Famously, you write weather as well or better than anyone. First, what do you think about this particular bit of praise? Second, do you write weather so well because you're from Minnesota?
Brian: I do love writing weather. There's something about snow, ice, and brutal cold that enrich the drama of a thriller. Even when I write summer books, there always seems to be a flood or a lightning storm threatening to upend the action. And yes, the fact is, weather is a part of the day-to-day life of Minnesotans in a way that's not always true in other parts of the country. (Duluth just had 11 inches of snow…on October 20!)
I want to give readers a "you are there" feel with my settings. I want you to feel as if you've been dropped down in every scene, and you can feel, touch, taste, hear, and smell everything happening around you. Weather is a big part of that.
Q. What are you working on now? 
Brian: It's been a busy year! I've actually had four book launches in 2020. My stand-alone thriller Thief River Falls came out in January, and last month, Amazon listed it among their top 10 bestselling thrillers of the year so far. Then my first Jason Bourne book The Bourne Evolution arrived in July, followed by the new Stride novel Funeral For A Friend in September. And as if that's not enough, my New York Times bestselling Audible Original The Deep, Deep Snow finally came out in a print edition in October.
Next year promises to be just as busy. I've wrapped up a new stand-alone thriller called Infinite that comes out in March. It's the most unusual story I've ever told – but also a classic Brian Freeman thriller. Right now, I'm working on two more books simultaneously. I'm wrapping up the new Jason Bourne thriller The Bourne Treachery, which comes out next summer. And I'm finishing a new Audible Original as a follow-up to The Deep, Deep Snow. So to all those readers who asked me to write faster…I listened! 
Funeral For a Friend
Jonathan Stride's best friend, Steve Garske, makes a shocking deathbed confession: he protected Stride by covering up a murder. Hours later, the police dig up Steve's yard and find a body with a bullet hole in its skull.
Stride is pretty sure he knows who it is. Seven years ago, an out-of-town reporter disappeared while investigating anonymous allegations of rape against a prominent politician. Back then, the police believed that the reporter drowned at a dangerous swimming hole called the Deeps but the discovery of the body changes everything. Now Stride s partner, Maggie Bei, is forced to ask Stride an uncomfortable question: Did you kill him?
Stride is obviously hiding things. He was the last person to see the reporter alive. And he admits lying to Maggie about that meeting, but won t tell her why. With suspicion in the murder pointing at him, Stride finds himself off the case and on leave from the Duluth Police.
His only ally in clearing his name is his wife, Serena, who retraces the reporter's investigation into the explosive allegations. The clues all point to a hot Duluth summer years earlier that everyone in town would prefer to forget.
Someone was willing to kill rather than let those long-ago secrets come out, and the suspect with the strongest motive is Stride.