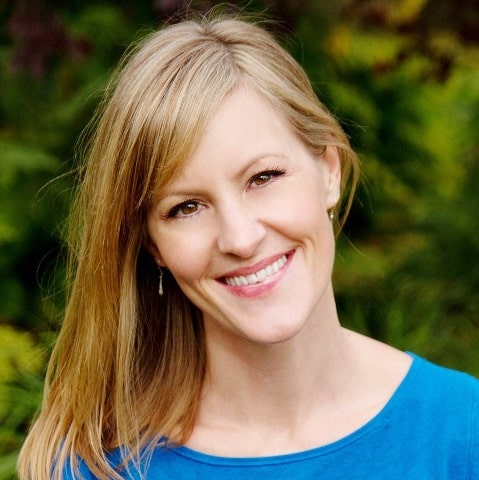 USA Today bestselling author Christina McDonald's writing has been praised by everyone from Parade Magazine to Publishers Weekly. Lisa Unger called Do No Harm "not to be missed," and The Night Olivia Fell has been optioned for by a major studio for television. And though she currently lives nearly 5,000 miles from her original Seattle home, she's got a growing fanbase on both sides of the Atlantic.
Note: Mystery and Suspense Magazine added Do No Harm to our list of best mysteries of 2021.
Q. On the surface, Eva in Behind Every Lie seems to share some of your story. She's adventurous and even travels from Seattle to London in a trip that mirrors your own. What does the book teach us about the author?
Christina: Everything and nothing in my books is based on me and my life. The plot and the characters come from my imagination, but these things are of course mined from my personal experiences, the people I know, the influences on my life. 
In the case of Behind Every Lie, however, a lot of my own experience of moving from Seattle to London appeared because I think when you move abroad it sets off a bit of an identity crisis. Where is 'home'? Where do I belong now? Who am I now that I don't live where I grew up? Will I always be an outsider? These are the questions you ask when you move to a new country. And because Eva struggles with her identity, I thought sending her away from her home to a new country was a great way to destabilize her and help her find out who she really was at her core.
Are Eva and I alike? Again, all of my characters have a bit of 'Christina' in them. Some of her thoughts on identity, love and commitment align with mine. However, I don't think I would have made many of the choices Eva did. She's quite insecure. She doubts herself frequently (understandably, given her past). She feels safety in a crowd instead of alone. None of these traits are like me, but are wholly her own.
Q. What's your favorite genre to read? What are some of the books or authors everyone should read in that genre?
Christina: I love reading (and writing) domestic suspense and thrillers. They take the ordinary and make it extraordinary. They get me thinking. They get my adrenaline pumping, with a suggestion of danger without me ever actually being in danger. 
For others who enjoy this genre, I always suggest Rebecca by Daphne du Maurier and of course anything by Agatha Christie. For more modern authors, I suggest books by Tana French, Gillian Flynn, Mary Kubica, Lisa Unger, Heather Gudenkauf, Kimberly Bell, J.T. Ellison, to name just a few!
Q. As an expat writing in London, are you living the dream? What are some of the things you love most about that lifestyle? What are some of the challenges?
Christina: I'm not sure I would say I'm living the dream – I'm just living life…in a different location. Culturally, England and America are pretty similar, but socially it's very different. Americans tend to be very direct and enthusiastic, while Brits are generally self-deprecating, quietly understated, and don't like confrontation. This can be a little confusing at first. lol 
The biggest challenge of living in London is that I miss my family in Seattle. My mom recently was hospitalized and I wasn't there, and this will always be difficult for me. But I do love many things about London. There are so many green spaces and so many things to see and do, plus we have so much amazing history here, like the Tower of London, Tower Bridge, Houses of Parliament, Big Ben, the museums. It's easy to just spend a day walking around and getting completely immersed in the sights and vibe of the city. I like the work-life balance and that my kids get a good education and that we all have universal healthcare. These are important things that we wouldn't get in America.
Q. The day you learned you'd made the USA Bestsellers list, what was that like? Were you expecting anything like that? How did you celebrate?
Christina: Ha! You should've seen me, I jumped up and down on my couch like a kid! Lol My husband opened a bottle of champagne and we drank the whole thing, even though it was a weeknight and we had to take the kids to school in the morning. It was a phenomenal feeling to achieve that dream.
Q. Do No Harm is coming in 2021. What's next after that?
Christina: I'm currently hard at work on my fourth book, but I can't say too much as it's in its very early stages. But I can tell you more about Do No Harm! It comes out February 16, 2021 and is about a doctor who starts selling opioids in order to pay for her son's life-saving cancer treatment. It's a very personal story for me because my brother has struggled for most of my adult life with addiction. Born from that emotional wreckage is this book.
The cozy mystery author on CHAPTER AND CURSE and more
read more