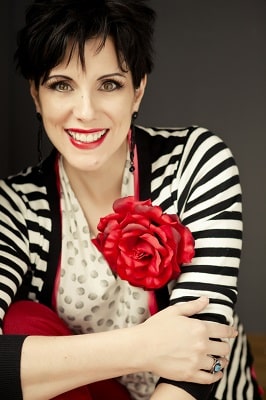 Deanna Raybourn is the New York Times bestselling author of historical mysteries. Her novels have been nominated for numerous awards including two RT Reviewers Choice awards, the Agatha, two Dilys Winns, a Last Laugh, three du Mauriers, and most recently the 2019 Edgar Award for Best Novel.
Q. An Unexpected Peril (Veronica Speedwell, #6) is coming in 2021. For those of us who haven't read an advance copy yet, what are we in for?
Deanna: Our favorite intrepid Victorian lepidopterist is back! This time Veronica and her sleuthing partner, Stoker, investigate the death of a mountain climber who was a member of Veronica's explorers' club—an adventure that requires Veronica to go undercover and masquerade as a European princess.
Q. There are rumors of a Lady Julia TV series. What's the latest?
Deanna: Unfortunately, that project—like so many!—didn't make it fully into production. The producer had a hit on his hands with a series he was working on before mine, and that had to take priority. So, the option on the Lady Julia books is back in my hands and available for development. Maybe one day!
Q. Historical mysteries are some of the most popular in the broader genre. What do you think is the biggest appeal? Why do we love them so much?
Deanna: For me, reading historical mystery is like visiting a foreign country that is just different enough to be intriguing. We have common ground with people from the past—most people want work they enjoy, a better life for their kids, peace—but the day-to-day details are exotic to us. We can enjoy the fantasy of swanning around in petticoats and deerstalker caps while we sleuth out crimes, and then we can go back to our modern conveniences. It's fun to visit gaslit streets and glittering ballrooms, but it's even more enjoyable when you can do so from the comfort of central heating and indoor plumbing. 
Q. Famously, you're a native Texan (in a proud tradition of writers from Texas). How does the ethos of the state appear in your writing?  
Deanna: Texans LOVE to tell stories! It's the crossroads of the south and the west—both of which have long storytelling traditions–and the mix of Native, Mexican, Black, and immigrant cultures mean there is so much to draw from. Everything has a backstory, from holiday traditions to geographical locations—Woman Hollering Creek comes to mind. I think every Texan has a few tall tales tucked in the back pocket.
Q. What are you working on now?
Deanna: I am happily at work on Veronica's seventh Victorian mystery as well as finishing up a contemporary novel that follows the adventures of four retirement-age female assassins who have to team up to take out the organization that wants them dead. I am so excited to share both of them with readers! We'll be announcing titles and pub dates on social media as soon as they're finalized.
The USA Today Bestselling Author on AMONG THE INNOCENT and more
read more