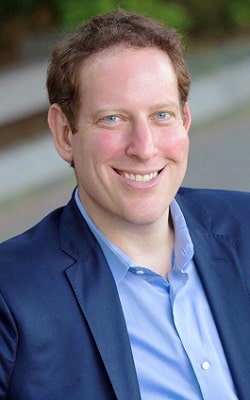 Jason Pinter is the bestselling author of Hide Away, the first Rachel Marin novel, as well as six other novels. His books have over one million copies in print worldwide and have been optioned for film. He has been nominated for numerous awards, including the Thriller Award, Strand Critics Award, Barry Award, and Shamus Award, and more.
Q The second book in the Rachel Marin series, A Stranger at the Door, is coming out today (January 12) ahead of already strong reviews. For those of us who haven't had a chance to read it yet, what are we in for?
Jason:  In Hide Away, I introduced Rachel Marin, widow, single mother, and reluctant vigilante. After the traumatic murder of her husband, Rachel took her two young children and started a new life. In doing so, she sharpened her mind and body to protect her family due to the failure of everyone else to do so for her. In A Stranger at the Door, Rachel has found a modicum of peace after helping bring a killer to justice. But when her son's teacher is brutally murdered, Rachel has no choice to get involved. But doing so brings back a shadowy figure from her past and puts her family in the crosshairs of some very dangerous people who are willing to do anything to keep their secrets buried.
In this series, my aim is to combine a page-turning thriller with real characters and emotions whose stakes you truly care for. Rachel is far more than the sum of her parts, and I think the reader will enjoy watching her actions. She is not a perfect person. She has her flaws. But she would also do anything, anything, to protect the people she cares about.
Q In your series, Rachel has to make some tough choices when the stakes become life-or-death, but she remains relatable and likeable. How do you go about creating that kind of a lead character?
Jason: I think it's because first and foremost Rachel cares about her family. Her children have been through horrors we can scarcely imagine, and because of that Rachel has taken it upon herself to protect them where others have failed. I think we can all relate to wanting to protect our families, to be willing to take a bullet for them. Rachel might just be willing to go a step further. But her love is what keeps her grounded and, I believe, why people root for her even if she does some things that might cross the line.
Q You've written books across age groups, including a middle-grade adventure thriller and a children's book. What draws you to writing for different audiences? How has writing for younger readers helped you write for adults?
Jason: To me it's using a different part of my brain. Writing for ids has allowed me to do things I can't do in books for adults, and in some ways it's actually more freeing. When I've spoken to kids, they love to ask about the stories and characters and want to know everything about them. And as a storyteller, seeing that kind of joy and enthusiasm for your stories is everything you could hope for. I hope to continue writing for both kids and adult as long as I can type.
Q You've held editorial and marketing positions at Warner Books, Random House, St. Martin's Press and Grove/Atlantic and the Mysterious Press. How did your publishing experience help you become a better writer?
Jason: I empathize with writers, in all the ups and downs of having a writing career. Being on both sides of the desk hopefully allows me to support my own publisher when my books come out, and being a writer hopefully allows me to understand the writers I publish. It's certainly helped me become a better editor. I try to keep my writing and my work in publishing as separate as possible, but given how closely related they are, it's often not possible at all.
Q In all your books, Henry Parker (and now Rachel Marin) are constantly chased and surrounded by danger. What do readers love about heroes in trouble? What about trying to solve a mystery while being hunted connects with us so deeply?
Jason: I think it's the combination of solving a mystery and finding out the resolution, with that page-turning sense of anything could happen on the next page. To me, both Rachel and Henry are also very, very human. They're not superheroes. They're not even Jack Reacher. If they have any skills, they're self taught, and their resolve is something we all hope for. And I think there's a little wish fulfillment too. Who wouldn't love to solve a mystery while evading danger? (assuming, of course, that danger never actually catches up).
Q What are you working on next?
Jason: I'm hopeful that readers will enjoy Hide Away and A Stranger at the Door enough that I'll get to publish more Rachel Marin novels. I love this character so much and I think she has a lot more stories to be a part of. I'm also working on a standalone outside of this series, but I have to stay mum on that. And I may be putting the finishing touches on something for kids…maybe. 😉
Rachel Marin is in a good place. After years of struggle, the single mother has found both a stable, loving relationship and a new purpose: putting her investigative skills to work solving crimes for the local PD. But just as the pieces of her life are finally starting to fall into place, her teenaged son's teacher is gruesomely murdered, starting a domino effect that shatters her peaceful existence.
When Rachel discovers an ominous email the teacher sent to her just before his death, she knows she must help bring his killer to justice. But soon a figure from her past reappears, threatening to expose Rachel's darkest secrets if she doesn't tread lightly. And when her son is recruited by a shadowy businessman who may be connected to the murder, Rachel knows this has just gotten very, very personal.
Someone out there is dead set on keeping this grisly cover-up good and buried, which means if Rachel's not careful, it's only a matter of time before her dream life becomes her worst nightmare.
The NYT bestselling author on THE INVESTIGATOR and more
read more