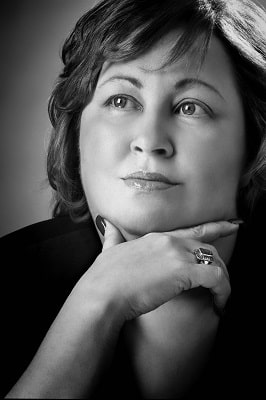 Kay Hooper is the author of more than 100 books, more than 60 of which are New York Times bestsellers. She was nominated for the Shamus Award for Best Original P.I. Paperback for House of Cards, part of The Bishop Series. Currently, she's writing a series of suspense-thrillers centered around a team of psychic FBI agents.
Q. Stealing Shadows was the first in the Bishop/Special Crime Unit series, written twenty books and twenty years ago. How have the psychic, Cassie Neill, and other characters evolved in that time?
Kay: I feel that all the characters who have reappeared in the series in their recurring roles have evolved, each according to his or her experiences. Some, like Hollis Templeton, have had lengthy story arcs across several books showing how their characters evolve and why, while others have been spotlighted in a single book – and yet continue to grow and evolve "offstage." Cassie has been mentioned several times since Stealing Shadows, but I would definitely like to see her appear in an upcoming book. I look forward to catching up with some other characters introduced early in the series, such as Miranda's sister Bonnie and Nell Gallagher for instance, so both the readers and I can see how their lives have changed over the years.
I have definitely grown closer to virtually all of the characters. Quite a few have surprised me, either in how their personalities evolved or in background information that popped up unexpectedly. I always enjoy both introducing a new character and having a recurring character appear in a story, especially if the latter was not a conscious decision on my part. One of the fun things about writing a series, for me, is how those characters very often just stroll onstage and I find them changing the plot I'd had in mind.
Q. You've said elsewhere that one of your callings, besides writing, is animal rescue. How does that passion show up in your writing?
Kay: I think the major way animal rescue shows up in my writing is when a character or characters live with rescue animals – so far, in the series, it's been dogs. Cassie had Max, a rescue from her local animal shelter (a secondary character also adopted a shelter dog named Bryce); in Haunted I introduced Trinity's dog Braden, a rescued Pit bull based on an actual shelter dog whose real life story I detailed in an Author's Note after the story.
My love of animals and my belief that our lives are better with them as our companions is also clear in other dog characters in the series. In Haven we meet Emma's devoted Sheltie, Lizzie (named after one of my own dogs, also a Sheltie). In Hostage we meet Cesar, the very special canine partner of SCU agent Callie, as well as three mixed-breed rescued dogs who will likely appear again in the series. In Wait for Dark we meet Yorkie Felix, whose loss of his mistress changes his life when he becomes a sheriff's dog. And in the Salem trilogy we meet Leo, who has a unique relationship not only with his favorite human Nellie, but also with several members of the SCU team.
I can't imagine my life without the dogs and cats who share it.
Q. One of the more prolific authors we've interviewed (and we've interviewed many) you've written more than 100 books and novellas. To what do you attribute your work ethic?
Kay: I have to say that my work ethic is more about creativity than discipline. What I mean by that is that once a story takes hold in my mind, I'm driven to tell that story, and the closer to the end I get, the more driven I feel to finish it. I tend to work shorter hours in the early stages of a book, when story and character are evolving, taking shape in my mind, and longer hours when everything is coming together and I'm driven to get it all out of my head and on paper – or, rather, on the computer screen.
Something else I can't imagine is not having a story idea simmering in my mind all the time, either the vague early musings or the unfolding narrative racing toward its completion. Even after all these years, it's still the most fun thing in my life.
Q. Curse of Salem (Bishop/Special Crimes Unit #20) comes out next year, featuring a vicious killer and an ancient curse. For those of us who haven't read it yet, what are we in for? Can we pick up at #20 or should we start at the beginning?
Kay: Hey, I'd love to have every reader start at the beginning, so they can take the journey my characters and I have been taking these last years just the way we've taken it. But I do my best to make certain that any reader picking up one of the books in the series partway through isn't at all lost or confused. A new reader who picks up Curse of Salem is not going to know the entire backstory of recurring characters like Bishop and Miranda, Hollis and DeMarco, Quentin and Diana, but will hopefully learn enough to be interested, even fascinated, by them and by the story.
I'm doing something different in the Salem trilogy, in that all three stories are set in the same small, rather odd mountain town. Hidden Salem introduced the town of Salem and the truly evil man willing to commit evil acts in order to gain more power; Curse of Salem revisits some of the characters and the town as Bishop, Miranda, and the rest of their Special Crimes Unit team arrive to search for a killer and that curse after a warning delivered to mediums Diana and Hollis in Diana's eerie gray time — a stark and lonely place between the world of the living and the realm of the dead.
Q. What are you working on next?
Kay: I'm working on Burning Salem, the final book in this trilogy. Also looking ahead to the next trilogy and contemplating a second Bishop Files trilogy as well, this one centered around the civilian sister organization of the SCU, Haven. Lots of ideas. And I'm so looking forward to continuing this journey!
I hope both new and longtime readers have as much fun as I always do. 
The Sunday Times bestselling author on THE LAST PARTY and more
read more