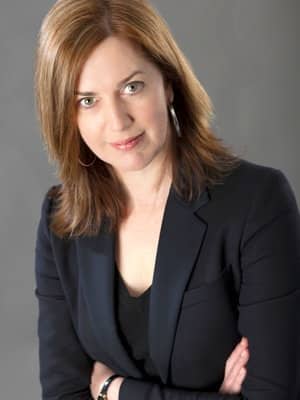 Meg Gardiner has won an Edgar Award, a Barry Award, and her UNSUB series was bought by Amazon Studios for television. She's the current president for Mystery Writers of America (MWA), a three-time Jeopardy! champion, and a Stanford Law graduate. Her books are universally bestsellers and have been translated into more than twenty languages.
Q. Your latest book, The Dark Corners of The Night (third in the UNSUB series), was called "a great one" by Stephen King, among others to heap praise on it. Why do you think this one resonated so strongly?
Meg: Thrillers create a sense of pulse-pounding excitement. Mine are like rollercoasters. They carry readers through ups, downs, high-octane twists and turns, and nail-biting tension. But action alone can't make readers hold their breath or turn pages in excitement. Suspense and tension only arise when we care about the characters in the story. In thrillers, the characters are in mortal jeopardy—they have their backs against the wall and must overcome some deadly challenge to save themselves, their families, communities, or the world, often with time running out. Psychological thrillers add depth to the characters' struggles. They generate an emotional gravity that draws readers in.
I think The Dark Corners of The Night connected with readers who care about the heroine, Caitlin Hendrix, and her FBI team as they dig deep to chase down a devious and elusive home invasion killer. Readers like the investigators, the investigation, and how everyone in the novel feels like a real person… from the FBI agents, to a twelve-year-old girl who helps save her family, to the dangerous and seemingly invisible killer, The Midnight Man.
Q. Your writing has been called "Hitchcockian" for its twists. What do readers get out of a well-crafted twist?
Meg: The best twists are surprising yet inevitable. They cause us to inhale and say, "Whoa—I didn't see that coming." And then, on further reflection, to think: "But now I see that the clues were always there." Those kinds of twist arises from character and conflict. As to writing twists… shh, don't tell anyone, but writers get to revise, and to seed in clues for the setup, so that the payoff will be extra tasty.
Q. You've written across many thriller subgenres: crime thrillers, psychological thrillers, procedurals, suspense, and more. Do you think there's any value in looking at subgenres, or are your books all just, as the LA Times put it, "kickass" thrillers?
Meg: I've always written the story that I want to read. I love relatable characters, especially women who have to rise to a challenge by finding new strengths. I love action and twists. So that's what I put in my novels.
Q. You're currently the president of Mystery Writers of America, a role held by other greats (Sandra Brown, Lee Child, Harlan Coben, and Janet Evanovich to name a few). How does Mystery Writers of America help readers and writers of the genre?
Meg: MWA is a professional organization whose motto is "Crime doesn't pay—enough." Its mission is to promote recognition and respect for crime writing and those who write it, to encourage literacy, and to support aspiring writers, booksellers, librarians, publishers, editors, agents, and the wonderful community devoted to the genre. We give crime writing's highest honor, the Edgar Awards. We promote education and support writers throughout their careers. We also provide a great sense of camaraderie. If you want to meet others who love crime writing, check MWA out.
Q. What are you working on now?   
Meg: UNSUB 4 is coming!
More Psychological Thriller Author Interviews
The New York Times bestselling author on TAKE YOUR BREATH AWAY
read more