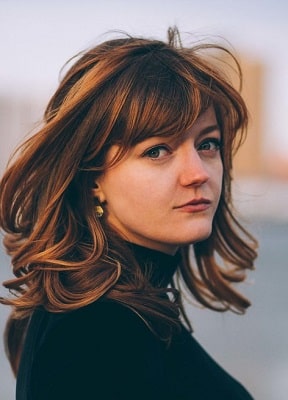 Sara Sligar's debut, Take Me Apart, received praise from People Magazine, USA Today, The Washington Post, and The Wall Street Journal, and many more. Apart from writing fiction, she teaches English and creative writing at USC.
Q. Take Me Apart was named one of People Magazine's Best Books of Summer, and praised for its cool style and fast pace by Publisher's Weekly. What do you think made Take Me Apart stand out?
Sara: I think there are many reasons a reader might connect with a book, so I don't want to speak for readers, but part of my motivation in writing the book was to write a suspense novel that had a gripping plot but also addressed larger issues about gender, memory, art, and fame. I also wanted to create a thriller with a nuanced representation of mental illness, where illness wasn't just a plot device but something that affected characters' lives in specific and complicated ways.
Q. You've taught writing at USC and UPenn. What are some of the most important lessons you teach your students?
Sara: I love teaching—I absolutely learn a lot from my students, and the act of teaching itself is also really generative for me, since it pushes me to imagine things from different angles so that I can better explain them to students. I try to tailor my lessons to individual students' needs, so they change a lot from course to course. I often emphasize revision as part of the creative process.
College students are used to churning assignments out quickly, because they have to, but writing fiction requires you to sit with your ideas and think about what you really want to accomplish with a story. Getting used to the pain of that self-examination is important for any writer. Observation, analysis, revision—these are skills that I think creative writers are especially well-equipped to teach, and that can help students a lot even beyond their writing pursuits.
Q. You and your dog like to give reading recommendations. What makes for a great read, from Wilkie's point of view?
Sara: Wilkie gives his seal of approval to a wide variety of books. I love books that feel fully immersive—whether it's immersing you in a setting or a character's psychology or a plot or a unique way of writing. Some books I have read recently and loved are: Megha Majumdar's A Burning, David Heska Wanbli Weiden's Winter Counts, Brit Bennett's The Vanishing Half, Frances Cha's If I Had Your Face, Janelle Brown's Pretty Things, and Elizabeth Little's Pretty as a Picture. But there have been so many great books published this year. I worry that some wonderful ones have fallen through the cracks with the pandemic, so I hope that people are able to continue finding those books that maybe got a little overlooked.
I'm thinking, for example, of books like Rachel Harrison's The Return, Amy Jo Burns's Shiner, Kate Milliken's Kept Animals, C Pam Zhang's How Much of These Hills Is Gold, Andrea Bartz's The Herd—March/April releases that have certainly gotten lots of praise, but I think they deserve even more!
Q. How have your PhD in English and love of art affected your writing? What other interests do you bring in for your projects?
Sara: Doing a PhD in English, I learned to think about how stories are structured in a very analytical way, which has been really useful for my writing. My academic research and my creative writing are very different in many ways, but for me there's an aspect of apprenticeship that comes with reading so many books and spending so much time thinking about the history of narrative.
As for my interests—honestly, I can be interested in almost anything. I am easily fascinated and love research in all forms. I like to disappear down chains of Wikipedia entries or super-specific sub-Reddits, because I love seeing the communities that form around very specific interests. So in writing Take Me Apart, I spent hours reading about different Northern California tree species, or club exhibitions in 1980s Manhattan, or so on. The information doesn't always make it directly into the book, but it helps me fully get into the world of the book.
Q. What are you working on next?
Sara: My next book, which is coming out with my same wonderful publisher, MCD. I don't want to say too much about it yet, but it is a blend of suspense and horror, and it's a project I've been thinking about for many years now, so it's exciting to see it start to come together.
The cozy mystery author on CHAPTER AND CURSE and more
read more