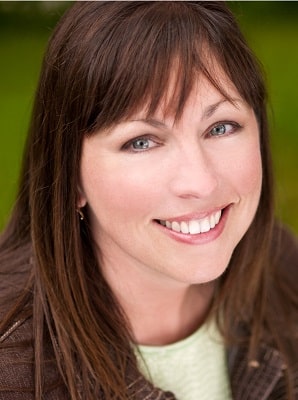 Rebecca Zanetti is the author of over forty romantic suspense, dark paranormals, and contemporary romances, and her books have appeared multiple times on the New York Times, USA Today, Amazon, Barnes and Noble, and iBooks bestseller lists.
Q. Your latest Deep Ops book, Driven, is coming out later this month. What is Angus Force up to in this one? And can readers who are new to the series jump right in? 
Rebecca: I think readers can jump right in, but I've also seen reviews that recommend starting at the beginning with Hidden, so it's up to the reader.  Angus is hot on the trail of a serial killer while still dealing with his slightly nutty unit as well as his alcoholic dog and his attraction to Nari.  Nari is trying to keep the unit sane and together while dealing with enemies and her attraction to Angus.  Kisses, intrigue, and romance ensues.
Q. Do you draw a hard line between romantic suspense and paranormal romance?
Rebecca: I think there's overlap in the suspense because even my paranormal romances have suspense in them.  I like external conflict, and there's nothing like a really good villain to keep things interesting.
Q. What are your favorite kinds of books to read?
Rebecca: I pretty much read everything from middle grade to science fiction to romance.  I love a good thriller.  Lately I've been binging Lisa Jackson and Steve Berry books, and I'm ready to dive into Lexi Blake's newest as soon as I get a moment.
Q. You interned for President Reagan (post-presidency) back when you were in college. Has the experience ever found its way into any of your books? 
Rebecca: I was in my late teens, and the president was around eighty years old, and I remember being struck by how much he and Nancy loved each other.  Whenever there was an event that Nancy attended, he was always concerned she had a sweater and was comfortable, and she was always looking out for him, too.  I just remember thinking that that was incredibly sweet and I hoped I found my one real love someday.  I did—Tony and I have been married for twenty-three years now.
Q. What are you working on now?
Rebecca: Right now, I'm working on the next Dark Protector book, which is Sam's book.  Then I'll move to Garrett's book, and I'm really excited about both of these.
Unswerving: Angus Force is determined to hunt down the serial killer he'd once shot dead—or so he thought. But an anonymous source reports that Lassiter is alive. Force hasn't slept since, knowing it's only a matter of time before "the Surgeon" strikes again. And soon, a body is found, bearing Lassiter's same maniacal MO. It's just the beginning of a murderous trail blazing through DC and Virginia, right to Force's backyard . . .
Unstoppable: Nari Zhang is the shrink for the ragtag Deep Ops Unit, though she isn't Force's shrink—which is a very good thing. Because once they're thrown together on the case, their attraction is explosive and irresistible. They'll just have to fight that much harder to keep the heat between them from flaming out of control. But things are about to become far more challenging, and deadly, than they could have imagined . . .
Unhinged: Once the killer catches a glimpse of Nari, she becomes his new obsession. She is now the focus point—for both Force and Lassiter—in a dangerous dance for survival . . .