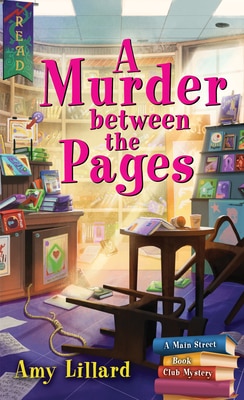 A Murder Between The Pages
A Murder Between The Pages by Amy Lillard brings small town living, a cozy book store/coffee shop, quirky characters, and humor to this cozy mystery. It is the second book in the Main Street Book Club Mysteries series and is set in Sugar Springs, Mississippi.
Our protagonist, Arlo Stanley, is co-owner of a bookstore and coffee shop with her high school friend, Chloe Carter. For their Friday night book club, their selection is by a local, deceased author and focuses on a missing girl. The women believe the book was inspired by a cold case that occurred in their town during the 1970s. When another young woman, Haley, dies at the house where the girl disappeared, the book club decides to investigate both cases. What happened fifty years ago? Did the girl run away or was she murdered? Did Haley have an accident or is there something more sinister behind her death?
Arlo tries to keep the book club members out of trouble, but continues to be pulled into their shenanigans. This makes for some comical scenes that lighten some very serious themes. However, we gain insight into Arlo's personality through her interactions with these women and this makes her feel more real and relatable.
The author did a great job of creating a strong sense of place. As events play out, the action picks up, and I soon felt like I was living the events alongside the characters. There were several twists in the book, but most of them were not great surprises, with one major exception.
The Bottom Line: If you like entertaining and amusing cozy mysteries, then this is one you should check out. It works well as a standalone novel, but would likely add background and depth if read in order. This is the first book that I have read by this author and I look forward to the next book in the series.
Thanks to Poisoned Pen Press and Amy Lillard for a digital ARC of this novel via NetGalley. This is my honest review. Opinions are mine alone and are not biased in any way. Publication date is currently set for November 24, 2020.
For 400 years, the Warren witches have used their magic for good
read more