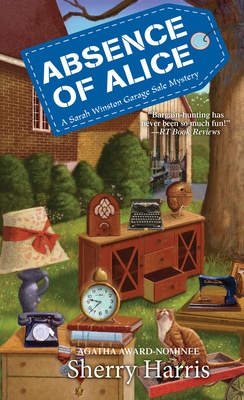 Our protagonist, Sarah, started a business two years ago organizing on-site and online garage sales. Her latest client, Alice Krandle, is sure she can make a lot of money from the antiques and artwork that she owns. Meanwhile, Sarah's landlady and friend, Stella, is kidnapped. Unfortunately, the kidnapper has decided to make life difficult for Sarah as well. He contacts Sarah with a list of rules including "Don't call the police" as well as having her run all other town doing tasks. Sarah can't get questions out of her mind. Who has kidnapped Stella? Why are they contacting Sarah? Should she abide by the rules? Will Stella be rescued? Is Sarah's life also in danger? While she jumps to meet the kidnapper's demands, Sarah is having to continue to work with clients on their garage sales as well as her own upcoming anniversary garage sale on the town common.
This novel continues to feature many of the reoccurring characters that are Sarah's friends that I have come to know and enjoy spending time with as well as a few new characters to bring variety and twists to the story. Sarah's growth over the course of the series is clearly demonstrated as well as how she interacts with and feels about the other characters.
This story brought more suspense and anxiety to the table than previous novels and is therefore somewhat darker. However, it is still a cozy mystery without the gory details being explicitly shown. Sarah's emotional state and her ability to "think on her feet" play a large role in this novel. So does her resilience, courage, hope and love. There was a fast pace from scene to scene and the subplots tied together well. The tension, stakes and action built up to an exciting ending. Themes include murder, kidnapping, friendship, relationships and trust.
Overall, this was an intense cozy mystery that quickly drew me into Sarah's world. I felt like I was trying to help her find Stella and identify the kidnapper. It's the seventh book I have read by this author and I am looking forward to the next one. I recommend it to those that enjoy the genre. This can be read as a standalone novel, but I would recommend reading the series in order to gain more insight into the characters and their backgrounds.
I received a complimentary copy of this book from Kensington Books and Sherry Harris via NetGalley. Opinions expressed in this review are completely my own and are not biased in any way. Publication date is currently set for December 29, 2020.
The victim scratched a clue into the soil
read more