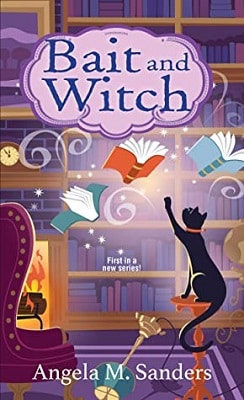 Bait and Witch by Angela M. Sanders brings corruption and magic to a new paranormal cozy mystery series set in Wilford, Oregon. A Victorian house that is the small town's library is just the place for Josie Way to hide, or so she thinks.
Our protagonist, 25-year-old Josie, arrives in town to be the new librarian. While working at the Library of Congress, she and a colleague overheard a conversation that deals with corruption. After they go to the FBI, her colleague disappears and Josie decides to get out of town until the trial. However, her hiding place isn't as calm as she expected. The library is set to be torn down so that a retreat can be built. On top of that, Josie finds out she is descended from a long line of witches and her powers have suddenly been activated. The library books are actually talking to her. Finding a dead body the first night she arrives only adds to her terror. Will the crooks find her? What will happen to the library? Is Josie able to control her magic? How long will she spend in Wilfred? Who was killed on the library grounds and why?
The writing style felt warm and friendly. I was able to vividly see the picturesque library, the town, and the people of Wilford. I quickly related to Josie and wanted her to be safe and successful. Of course, things don't always go smoothly, but I was rooting for her to win. The secondary characters were a mixed lot of the unusual as well as ever-day folks that you could meet in any small town. While their depth varied, it felt adequate for a first book in a series. Of the secondary characters, Rodney the cat stole the show.
Overall, this was a story that quickly drew me into Josie's world. It was filled with the challenges of starting over against a backdrop of murder, corruption, secrets and more. This was a fun and entertaining read that I did not want to put down. I also enjoyed the way the historical aspects of the town and a possible romance were woven seamlessly into the story.
This is the first book in the Witch Way Librarian Mysteries series, and I highly recommend it to those that enjoy the genre. If you love share Josie's and my love of books and libraries, this may be the next book for you. It was a fun, relaxing, and entertaining read and I can't wait for the next book featuring Josie.
I received a complimentary copy of this book from Kensington Books and Angela M. Sanders via NetGalley. Opinions expressed in this review are completely my own and are not biased in any way. Publication date is currently set for December 29, 2020.
One of their bubble tea customers turns up dead
read more