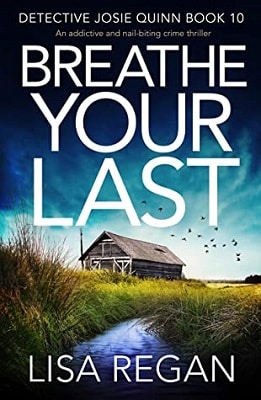 Breathe Your Last by Lisa Regan brings mystery and suspense to a well-written and dramatic police procedural and crime thriller set in Denton, Pennsylvania. Once again, this author has brought to life mystery, family dynamics, mental illness and much more, in a page turner—the tenth book in the Detective Josie Quinn series.
How does a champion swimmer drown? Once again, Josie and her boyfriend, Lieutenant Noah Fraley, and many others from the Denton police force face a case with few clues. As additional odd events occur, the team works long hours while getting little sleep. And as they try to make sense of what is happening, they wonder if there is a pattern. Are they missing a link?
Josie and Noah are compelling characters, who feel three-dimensional and have both flaws and virtues. Like many people, they struggle with work-life balance, jealousy, and communication. As for secondary characters, having people from Josie's private life woven into the story makes her come off as more realistic and believable. This story manages to showcase the emotional landscape of several characters, bringing them to life for this reader.
The plot is suspenseful, fresh, complex, and entertaining. The conflicts are both internal and external, arising from characterization and circumstance, with plenty of plot twists and turns. Not to mention several surprises. The tension, stakes, and action build up to an exciting and pulse-quickening dramatic ending. While the romantic relationship between Josie and Noah is interspersed into the plot, it doesn't detract from the story line.
Overall, this is a dramatic crime thriller that hooked me with the first sentence and didn't let go until it was finished. It's the second book I have read by this author and I am looking forward to the next one. I recommend it to those that enjoy crime thrillers or police procedurals. While not absolutely necessary, I would recommend reading the series in order to gain more insight into the characters and their backgrounds.
I received a complimentary copy of this book from Bookouture and Lisa Regan via NetGalley. Opinions expressed in this review are completely my own and are not biased in any way. Publication date is currently set for December 9, 2020.
More Crime Thriller Reviews
The death of a look-alike stranger leads a woman down a troubling path
read more