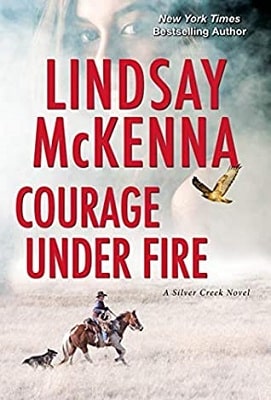 Courage Under Fire by Lindsay McKenna is the second book in the Silver Creek contemporary romantic suspense series. The protagonists are Carissa (Cari) Taylor and Chase Bishop. Cari has her own beekeeping consulting business in California and loves it. However, when she gets a call from the county sheriff, her life is about to change.
Her stepbrother, who has vowed to kill her, has escaped from prison. Luckily, Cari lands a job on a large range in Silver Creek, Wyoming. Ex-Marine Corp sniper, Chase Bishop runs the 80,000 acre family ranch. He is trying to add organic honey production to the ranch's diverse operations. When his initial beekeeper suddenly leaves, he hires Cari.
Both Cari and Chase are likeable characters with a lot of chemistry. They have similar values but have approached life very differently. Cari is strong, intelligent and believes in herself. She is used to working in a field that is dominated by men. Chase shows respect for others and treats women as equals.  He is diversifying the ranch by including honeybees for honey, a raptor rehabilitation center, organic vegetables and much more. The secondary characters played a background role and weren't as well developed. However, they may show up in future books in the series.
The writing and discussions gave me a strong sense of the Three Bars Ranch and the people of Silver Creek.  While the dialogue felt natural, there was some repetitiveness in some areas; especially around Chase's attitudes and treatment of women. While it was important to the story to acknowledge this, it seemed to be repeated a little too often.
This book has a lot of details in it on topics as diverse as beekeeping, raptor rehabilitation and military sniping. I felt this added depth and made the book more realistic. Additionally, I learned a lot while reading the novel. While it may have been a little over the top in some respects, it left me feeling good that people are finding innovative ways to save family ranches.
Overall, I thoroughly enjoyed this novel. It was an entertaining book that was emotionally intense at times. The author did a good job of meshing the romance and the suspense without either suffering. If you are a fan of contemporary romantic suspense without instant love, then you may want to check out this series. I am looking forward to reading the next book in the series.
Kensington Books – Zebra and Lindsay McKenna provided a complimentary digital ARC of this novel via NetGalley. This is my honest review. Opinions are mine alone and are not biased in any way. Publication date is currently set for February 23, 2021.
To maintain her cover, they fake a relationship
read more