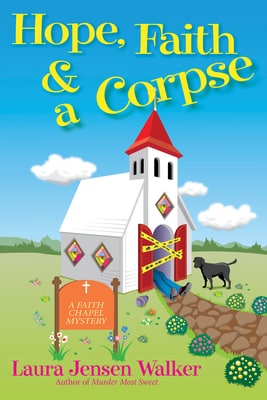 Hope, Faith, and a Corpse
Hope, Faith, And A Corpse by Laura Jensen Walker brings murder to a new cozy mystery series set in Apple Springs, California. This is a story that brings warmth and humor while tackling serious situations, examining prejudicial attitudes, and focusing on a unique amateur sleuth. It was one of the most enjoyable cozy mysteries that I have ever read.
Our protagonist, 42-year-old Hope Taylor, arrives in Apple Springs to start as the first female pastor of Faith Chapel Episcopal Church. While searching for the rector and her new boss, Father Christopher, she enters the columbarium and nearly trips over church elder Stanley King. When kneeling to check on him, she happens to pick up an urn with blood on it. When Father Christopher and two of the women of the church enter, one of them accuses Hope of murder. What a dreadful first day on the job! To clear her name, she focuses on her inner Trixie Belden while taking on her new duties at Faith Chapel. But will the community give her a chance? Many are not open to changes and focus on long-held prejudices against women in church leadership.
The descriptive writing made the cottages, bungalows, shops and people of Apple Springs come to life. I felt like I was visiting the town and trying to help Hope. Her quirky sense of humor is not always obvious to others and this actually makes her more relatable. The secondary characters were a mixed bag with varying levels and depth that worked great for a first novel in a series. There were enough challenges and adventures with secondary characters to keep the situation lively while Hope moved forward with solving the murder. Sister-in-law Virginia's visit and phone calls added snarkiness in addition to some much needed support for Hope. Bogie, Hope's Labrador, provided moments of humor as well as adding another dimension to Hope's life.  The story had plenty of suspects and twists along with a fast-paced plot.
Overall, this was a story that quickly drew me into Hope's world. It was filled with lots of humor, but also kindness, friendship, hope and the challenges of starting over against a backdrop of murder, arrogance, lies, secrets and more. This was a fun and entertaining read that I did not want to put down.
This is the first book in the Faith Chapel Mystery series, and I highly recommend it to those who enjoy the genre. Additionally, if you share Hope's love of classic movies, this may be the next book for you. It was a fun, relaxing, and entertaining read and I can't wait for the next book featuring Hope, Father Christopher, and the other residents of Apple Springs.
I received a complimentary copy of this book from Crooked Lane Books and Laura Jensen Walker via NetGalley. Opinions expressed in this review are completely my own and are not biased in any way. Publication date is currently set for January 12, 2021.
She finds his body in front of her coffee cart, a fatal slash across his neck
read more