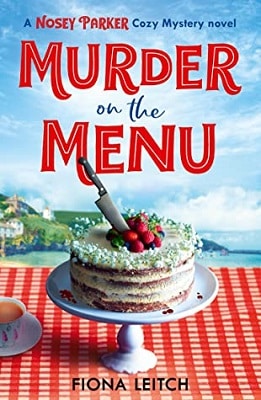 Murder on the Menu by Fiona Leitch brings murder, disappearances, and some humor to a new cozy mystery series set in the Cornish town of Penstowan. Jodie 'Nosey' Parker has moved back to her home town after leaving the London police force. Her 12 year-old daughter Daisy wanted her to do something less dangerous so Jodie retrained as a caterer and is going to start Banquets and Bakes, her own catering company.
What Jodie didn't expect is that her first job would be catering the wedding of childhood friend and ex-boyfriend, Tony Penhaligon. When the bride-to-be disappeared the night before the wedding after a fight with Tony's ex-wife, Jodie is drawn into the investigation.
Jodie's sense of humor and warmth was a delight. She was a likeable and friendly character that I connected with quickly. Her interactions with DCI Withers varied from witty to serious and a little bit of everything in between. Is there a romance in Jodie's future? The secondary characters were well developed for a first novel. Instead of quaint characters, there were realistic characters that added to the realism of the story. How much have your high school friends and neighbors changed?
The writing style was imaginative and flowed well. The author did a good job of transporting me to the Cornish countryside and its small towns. She did a great job of 'showing' versus 'telling' which made the novel more enjoyable. The story had several twists and there were a couple of surprises at the end. It was definitely not predictable. Additionally, having a sleuth that was not an amateur brought a depth to the novel that is often lacking in cozy mysteries.
Overall, this was a story that quickly drew me into Jodie's world. It was a fun, appealing and entertaining read with a solid mystery to unravel and a fresh take on the protagonist. All of the major plot points were resolved satisfactorily, the atmosphere was just right, and there are some threads to be explored in future books.
This is the first book in the Nosey Parker cozy mystery series, and I recommend it to those that enjoy the genre. It was a fun and relaxing read, and I can't wait for the next book featuring Jodie. It even includes a recipe at the end of the book. This is the first book that I have read by this author, but it won't be the last.
I received a complimentary copy of this book from HarperCollins UK, One More Chapter and Fiona Leitch via NetGalley. Opinions expressed in this review are completely my own and are not biased in any way. Publication date is currently set for January 15, 2021.
For 400 years, the Warren witches have used their magic for good
read more