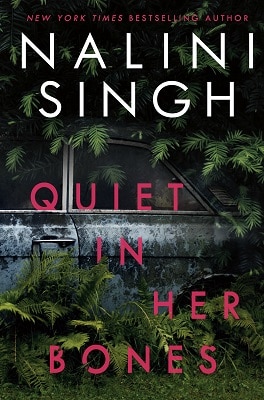 I have seen Quiet in Her Bones by Nalini Singh referred to as a crime thriller, a domestic thriller and a psychological thriller. I believe it is all of these. Add in a fantastic first two sentences in the novel and a setting in New Zealand and I was immediately hooked.
Aarav Rai's mother, Nina, disappeared ten years ago when he was 16. Most thought she was just another wife tired of her wealthy husband. But not Aarav. Now her bones and car have turned up in a nearby forest. Was it an accident or murder or something else entirely?
Aarav is a successful author that never believed his mother would leave him behind if she was truly leaving her husband. He is also a very unreliable narrator who has been in a recent car accident. He's having memory problems and is seeing a therapist, or is he? He's definitely a memorable character that I will not soon forget. Since the book is from his point of view, what can the reader believe? What is real? Can he determine what really happened to his mother the night she disappeared? His father certainly doesn't seem eager to find answers.
As we meet the secondary characters, nearly everyone seems to have a secret and most have a motive to kill Nina. Can Aarav trust anyone other than his half-sister? Their relationship feels like it is the only healthy one in the book. In this book nearly everyone has flaws and very few have virtues that are shown.
The writing gave me a strong sense of the neighborhood where Aarav grew up; which is where he is recovering from his accident. What is really going on in the neighborhood? There are a lot of secrets. While I guessed some of them, others were a surprise. This elite neighborhood is not as ideal and faultless as the residents would have you believe.
As the story line develops, several themes are apparent, including secrets, memory loss, infidelity, love, childhood traumas, unhealthy relationships, alcohol problems, and much more. The introduction of some Hindi words and cultural aspects added to the realism in the book.
Overall, this novel was unsettling and a bit creepy, but also gripping, entertaining and a bit over-the-top. However, it kept me fully engaged. What a dramatic conclusion! The epilogue wrapped up the loose ends and subplots nicely. While this is the first book that I have read by this author, it won't be the last.
Berkley Publishing Group and Nalini Singh provided a complimentary digital ARC of this novel via NetGalley. This is my honest review. Opinions are mine alone and are not biased in any way. Publication date is currently set for February 23, 2021.
More Psychological Thrillers