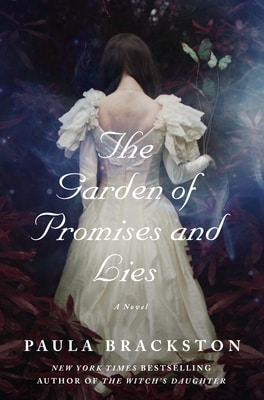 The Garden of Promises and Lies
The Garden of Promises and Lies by Paula Brackston is a well-written and entertaining mix of historical fiction, fantasy, time travel, and suspense. The novel is set in and around Marlborough, a market town in the English county of Wiltshire, in a mix of contemporary times and the year of 1815. Since it's the third book in the Found Things series, readers will benefit from reading the series in order.
Our protagonist, Xanthe, lives above an antique store, The Little Shop of Found Things. Previously, she has found that she can time travel to address injustices, an ability known to a few as Spinning, as well as a sort of communication with inanimate objects. When an antique wedding dress whispers and calls to her at an auction, she knows she will once again be time traveling. But how will she determine what the dress needs her to do? Will the Spinner notebook she discovered provide the necessary information and will she be able to interpret it accurately? Who can she trust in the past?
Xanthe has gained some confidence in herself and her ability to understand what the found objects need her to do. However, she is still learning what it means to be able to travel to other times and places. Now she will need to face an antagonist, bent on stopping her, while she fulfills a perilous mission.
Paula Brackston does a great job in giving the reader a sense of both time and place, and her descriptions help the reader travel with Xanthe. The story has history, mystery, suspense, danger, deceit, uncertainty, secrets, a villain, hope, friendship, duty to family, and much more. Be prepared for the imagery to engage your visual, tactile, auditory, and olfactory senses. While the climax was not a total surprise, the cliffhanger ending left me wanting more.
The Bottom Line: Readers who enjoy time travel mixed with suspense and history should enjoy this novel. I look forward to reading more books by Paula Brackston.
Thanks to St. Martin's Press and Paula Brackston for a digital ARC of this novel via NetGalley. This is my honest review. Opinions are mine alone and are not biased in any way. Publication date is currently set for December 15, 2020.
Angels walk among us, but so do other unearthly beings
read more