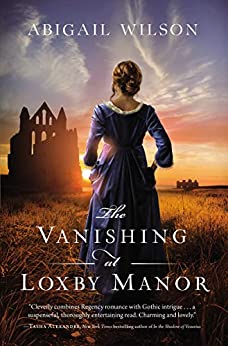 The Vanishing at Loxby Manor
The Vanishing at Loxby Manor by Abigail Wilson brings Regency romance, mystery, intrigue and suspense to life in her newest historical romantic suspense novel, set in 1816 in Kent England in the village of East Whitloe.
After five years, our protagonist, Charity Halliwell, returns to Loxby Manor, the home of her only love, Piers Cavanagh. When her friend, Seline, disappears the night Charity arrives, Charity is determined to find her. Can she rebuild her friendship with Piers and rely on a man who has been branded a coward and been living as an outcast for the last five years?
Every person Charity meets seems to be hiding something. But they're not the only ones. Charity has a secret that has fundamentally changed how she approaches life.
Questions abound in this story. Where is Seline? What are the secrets of the Cavanaghs and their neighbors? What is Charity's secret? Why did Piers become an outcast and live in a cottage in Liverpool?
Once again, this author drew me into the book quickly. The characters were compelling, led by strong and capable Charity, who comes across as intelligent and resilient, but with some trust issues. The secondary characters have a variety of realistic qualities and flaws, while the story manages to showcase the emotional landscape of several characters, bringing them to life for this reader.
The plot is suspenseful, fresh, complex, and entertaining. The conflicts are both internal and external, arising from characterization and circumstance. Not to mention plenty of plot twists and turns, with a couple complete surprises. The tension, stakes, and action in the last third of the book also turn this into a page-turner after a somewhat slow start. What an exciting and dramatic ending!
Once again, this author has brought mystery, romance, disappearances, family dynamics, secrets, and much more come to life in a delightful novel. Her attention to detail made me feel like I was actually living in 1816 with Charity and Piers. At various times, it was poignant, heartbreaking and uplifting. The accurate and specific cultural aspects created an authenticity that one does not always find in novels.
Overall, this was an enjoyable and fabulous read. This is the second book I have read by this author and I am looking forward to the next one. I recommend it to those that enjoy historical romantic suspense and historical mystery novels.
I received a complimentary copy of this book from Thomas Nelson—FICTION and Abigail Wilson via NetGalley. Opinions expressed in this review are completely my own and are not biased in any way. Publication date is currently set for January 26, 2021.
Historical Mystery Reviews
A cook delves into Victorian London's high society to catch a killer
read more