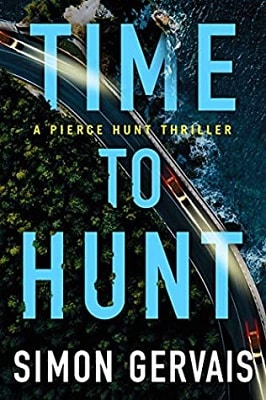 In Simon Gervais's third Pierce Hunt novel, Time to Hunt, Hunt leaves the comforts of home to undertake a critical mission for the CIA. Autonomous, a former Army Ranger,  and a devoted friend, he's also the ultimate operator. So, when the CIA agent (and close friend of Hunt's) Charlie Henican, goes missing, the CIA knows who to call.
However, Hunt soon discoverers there is more than meets the eye on this mission. While preparing to find Henican, a past nemesis who slipped through Hunt's fingers resurfaces with information that poses a grave threat to national security. Hunt is pulled in two different directions: to either save his friend or follow orders to protect national security. While this tug-of-war ensues, word gets out that there is a leak close to the team within the CIA. A traitor lurks among them. With these high stakes, Hunt recruits a top team of his closest friends, all lethal operators. However, when his team is attacked by possible sources from inside the CIA, Hunt doesn't know who to trust.
Simon Gervais pens a dastardly duo of villains: one is Hunt's past nemesis, and the second, a traitor motivated to right an injustice by doing further wrong. Can the reader cheer for the villain? Can we condone their actions?
The reader is taken down a twisted path as they wrestle with this traitor's actions and motivations. Gervais weaves both villainous story lines together with action, intrigue, and suspense. Is this villain truly bad?
Final thoughts: This was a stellar and fast-paced read. We start off with an audacious "arrest" and it doesn't stop till the last page. This was my first time reading about Pierce Hunt, but I always felt like I was in "the know" the whole book. I have to know more about this Pierce Hunt and his past exploits!
A serial killer on board an aircraft carrier and a Navy SEAL to track him down
read more