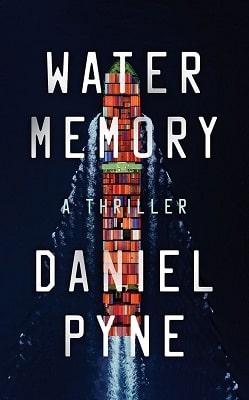 In Daniel Pyne's Water Memory, we meet Aubrey Sentro, a black-ops specialist suffering from serial concussion syndrome. She has been experiencing frequent memory loss while on the job, and is forced to take a desperately needed vacation. However, while on the high seas everything comes to a standstill when pirates highjack the cargo ship. What the pirates don't consider during the takeover is Sentro.
While excelling in the black-ops world, Sentro ends up lacking in the family world. While on this ill-fated cruise, battling memory loss, and the will to return to her children, Sentro utilizes every tactic she's learned to get back to her family, and save the ship.
From the start, we're thrust into Sentro's world of disjointed memories; into her attempts to make heads or tails of what they all tell about her, and to hold on desperately to what she has. Sentro tries to figure out who she is without her work, to find peace, serenity, and connection. The memory loss seems to get worse, but as she is faced with imminent danger, she is able to focus and survive. Is she anything without her work?
I enjoyed this novel for its glimpse into the fractured world of a black-ops specialist. Pyne takes the character of an operator, and breaks her down to the nitty-gritty. A married mother of two, Sentro just happens to be a killer operator. What does that kind of life do to a family?
After enduring this world, and all the bumps and bruises, we are left with someone with a fractured memory, left to pick up the pieces. However, when push comes to shove, regardless of the memory loss, Sentro continuously relies on her training, and leaves a trail of bodies in her wake—defying the stereotype that a women couldn't have done that!
The bottom line: This is a must-read for any thriller fan looking for a different angle into the black-ops world. Water Memory has all the action of a thriller, but with an extra layer of personal struggle.
More Military Thriller Reviews
A serial killer on board an aircraft carrier and a Navy SEAL to track him down
read more