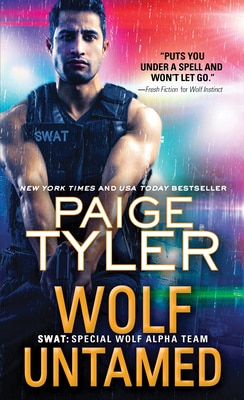 Officer Diego Martinez and his fellow SWAT team members are at another crime scene. It's here that he meets newly turned werewolf, Brandon Harlow, and the teenager's mother, Bree. And life gets interesting.
As the SWAT team's big case converges with Bree's work as an insurance investigator, the danger (and action) ramp up quickly.
Diego and Bree are fantastic characters. While Diego is an alpha and protective, Bree is a strong female protagonist. They balance each other well. There's an immediate attraction, but the first steamy scene isn't until about 60 percent of the way through the book. Not only does this allow Diego and Bree to get to know each other, but the reader also gets insights into their strengths and flaws. Besides Diego and Bree being compelling characters that come off as three-dimensional, Brandon shows significant growth during the course of the book.
The secondary characters were well-rounded and the antagonist was well-drawn. Similarly, the prologue gives some background on Diego. However, I wish this had somehow been incorporated into the main part of the book rather than being a flashback.
The plot is complex with lots of twists and turns and high stakes. The significant amount of danger and action will keep the reader ully engaged, and made this a true page turner for me. The author uses a unique take on werewolves and does a good job of explaining this.
This is a riveting story with protagonists that I liked and cheered on as their cases progressed and became ever more dangerous.  It held my attention fully and contained the elements that I love in this genre of books. This is definitely a book that delivers on escapism through attraction, friendship, family, romance, and love while also tackling serious issues including anger, stressful situations, crime sprees, suicide, and changes in life, family relationships, drugs, and selfless sacrifice for others.
Overall, Wolf Untamed is suspenseful, full of danger, and heartwarming. This combination delivers on the promise of its premise and opening scenes. The subplots ties together well, the main characters are strong and the ending explosive.
The Bottom line: If you enjoy thrilling paranormal romantic suspense novels, then I recommend you check out this series.
SOURCEBOOKS Casablanca and Paige Tyler provided a complimentary digital ARC of this novel via NetGalley in exchange for an honest review. Opinions are mine alone and are not biased in any way. Publication date is currently set for November 24, 2020.
For 400 years, the Warren witches have used their magic for good
read more