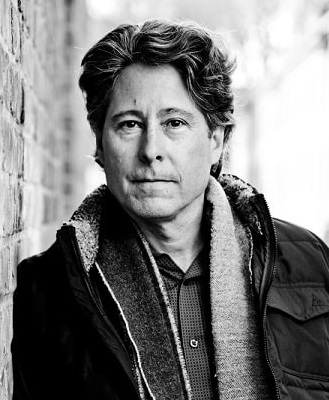 Robert Dugoni is the critically acclaimed New York Times, Wall Street Journal, Washington Post and #1 Amazon bestselling author of the Tracy Crosswhite police series set in Seattle, which has sold more than 6 million books worldwide. He is also the author of The Charles Jenkins espionage series, and the David Sloane legal thriller series.
Q. In Her Tracks is coming out April 20. (A book this magazine called "A fast and fascinating read.") For those who aren't caught up, what is Crosswhite up to in this latest book?
Robert: Tracy has come back to the Violent Crimes A-team after a maternity leave and time off to recover from PTSD following a death she witnessed in A Cold Trail. Another of her three partners, Vic Fazzio, has also been out due to injuries incurred on the job. While they were away, their Captain, Johnny Nolasco brought in a replacement, and Faz has returned before Tracy, which means there's no place for Tracy on the A Team. Nolasco offers her a position taking over the cold case unit. After much internal debate, Tracy takes the position and is immediately drawn to a case involving a missing 5-year-old girl who disappeared from a corn maze the night before Halloween and was never seen again. She's also drawn into an active investigation of a missing 20-year-old jogger, and works with her former partner, Kinsington Rowe, to find the young woman before it is too late.
Q. You've said elsewhere that you'll never stop writing the Tracy Crosswhite books. What are some of the challenges of having a successful series that's now on its 8th installment?
Robert: Keeping it fresh. A series allows you to create a world populated with many characters. I've actually learned a lot watching the television series Pennyworth. The writers never kill off an antagonist; they just keep having them come back. I'm going to try to keep good antagonists, like Captain Johnny Nolasco. For each book, I always think of a particular character to highlight with Tracy. It might be Kinsington Rowe, Vic Fazzio, or Delmo Castigliano. That way, the reader gets a more expansive world for each of the characters.
Q. Your admiration for writers from Hemmingway to King is widely noted. If you could go on a fishing trip with five writers from any time period, who would you bring along?
Robert: Definitely Hemmingway, who was a great fisherman. (I've been on many fishing trips and the goal is catching fish!) And of course, King, who would be entertaining (or so I'm told, by the people who used to perform with him in the band, The Rock Bottom Remainders). I'd also add Patrick Conroy simply because I loved his novels. That leaves two seats. This is hard. I've been on fishing trips and it's tight quarters and a lot of early mornings, so people can get grumpy if they don't get along. I think I'd like to meet Harper Lee, because I'd like to find out if any of the rumors regarding To Kill a Mockingbird and Truman Capote are true. Last seat I'd give to my good friend Dan Waters, simply because he writes great stuff, but is also a hell of a lot of fun, and you need that, especially if you aren't catching fish.
Q. Rumor has it you're working on another literary novel: a coming of age novel for Lake Union. What can you tell us about that?
Robert: I'm very excited about The World Played Chess, coming in September this year, and I hope readers will be as well.
It's very loosely based on my summer after graduating from high school and before starting college. That is a tough period of adjustment for many young men. We are expected to mature from boyhood to manhood without any real instruction—whether moving to a college campus, the work force, or entering the military. In 1979, I got a summer job on a small construction crew with two Vietnam veterans. At 18, they'd graduated, gone down to the recruiting station, and found themselves on a bus to bootcamp. Six months later they were in the bush in Vietnam.
The World Played Chess is told through the perspective of my protagonist Vincent, a Vietnam vet reflecting on his memories of 1979. When I explained the book to a friend, he said "it's like that phrase, 'The world played chess while I played checkers'." I loved that for the title because I thought it encapsulated what the book was about.
Q. What are you working on next?
Robert: The third book in the Charles Jenkins espionage series, The Silent Sisters, is actively in edits and will be out in early 2022, and I'm researching an idea for the ninth Tracy Crosswhite novel, which will also be out in 2022. I'm always working on a novel, and I can't think of a better way to spend my time!
In Her Tracks
Returning from an extended leave in her hometown of Cedar Grove, Detective Tracy Crosswhite finds herself reassigned to the Seattle PD's cold case unit. As the protective mother of an infant daughter, Tracy is immediately drawn to her first file: the abduction of a five-year-old girl whose parents, embattled in a poisonous divorce, were once prime suspects.
While reconstructing the days leading up to the girl's disappearance, Tracy is brought into an active investigation with former partner Kinsington Rowe. A young woman has vanished on an isolated jogging trail in North Seattle. Divided between two critical cases, Tracy has little to go on except the treacherous deceptions behind a broken marriage—and now, the secrets hiding behind the closed doors of a deceptively quiet middle-class neighborhood.
To find two missing persons, Tracy will have to follow more than clues, which are both long cold and unsettlingly fresh. Given her own traumatic past, Tracy must also follow her instincts—to whatever dark and dangerous places they may lead.