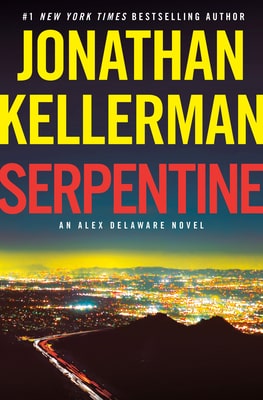 Serpentine by Jonathan Kellerman brings murder and disappearances to the 36th book in the Alex Delaware series. It's a combination of mystery and suspense in a police procedural. The books are also very cerebral in nature.
Los Angeles Police Lieutenant Milo Sturgis and psychologist Dr. Alex Delaware team up again when Milo is given a 36-year old unsolved cold case, for which the original file is missing. Dorothy Swoboda was found in a burned out car and the coroner's report showed she had also been shot. Ellie Barker, who made a fortune in exercise wear, is her daughter and was raised by her stepfather after Dorothy died. When attending a society function, she mentioned she wants to find out who killed her mother and soon a deputy chief of police is assigning it to Milo. But after 36 years, who is even still alive to be investigated? Where is the missing murder book? With no physical evidence, how can they solve the case?
Milo and Alex have been friends for years and while they often approach cases from different standpoints, their investigative and cognitive techniques gel as well as their dispositions, and they keep the cases fresh, entertaining and moving along. The way they bounce ideas off of each other feels natural. At this stage of the series, the main characters are well known to this reader and have depth. Some new secondary characters show up as well as some that have been in previous books to keep things interesting.
The writing style flowed well and I knew I was back with old friends. Kellerman's writing is polished and appealing, doing a good job of transporting me to the Los Angeles area. Whether they are talking about or experiencing the traffic or food or the people, I was living the events with Milo and Alex. The story had several twists and there were a couple of surprises at the end. It was definitely not predictable to me. Will you be shocked by the culprit's identity?
Overall, this was a story that quickly drew me into Milo and Alex's world and their latest case. It was an engaging read with a solid mystery to unravel.
I recommend it to those that enjoy the series and cerebral procedurals. I don't recommend jumping into this series at number 36, though. Start earlier in the series to have the best reading experience. I have read over 20 books in the series and plan to read them all. They're never disappointing.
 I received a complimentary copy of this book from Random House Publishing Group – Ballantine and Jonathan Kellerman via NetGalley. Opinions expressed in this review are completely my own and are not biased in any way. Publication date is currently set for February 2, 2021.
A London gangster brings terror and murder to Bath
read more