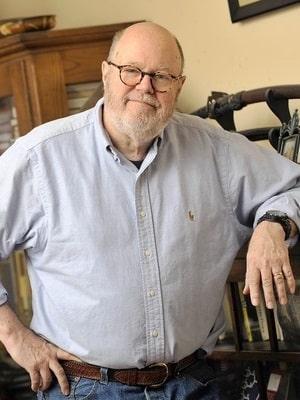 Stephen Hunter has written over twenty novels. The retired chief film critic for The Washington Post, where he won the 2003 Pulitzer Prize for Distinguished Criticism, he has also published two collections of film criticism and a nonfiction work, American Gunfight. He lives in Baltimore, Maryland.
Q. Bob Lee Swagger is back in Targeted. How has your iconic character changed over twelve books? How have geopolitical events of the last almost thirty years affected Bob Lee?
Stephen: I've indexed Swagger's age to my own so that I can always be clear on the physical limitations of the body. It's been suggested that I keep Bob a perpetual 35, but my own 30s are pretty much a haze, so I don't think I could bring that off! As for geopolitics, Bob is and has been a sergeant and has a sergeant's view of all things—practical, trees not forest, distrusting of 'suits' and disdainful of HQ politics. Those attributes have remained steady no matter where he is or who's up or down.
Q. Point of Impact provided the story for both the 2007 film and the 2016 TV series Shooter (starring Mark Wahlberg (film) / Ryan Phillippe (TV)). What was the journey like for you, from your 1993 hit book to these screen successes?
Stephen: I was treated well by all concerned so I have no complaints. I was also old enough to know there'd come a day when they stopped returning my phone calls so when that happened I wasn't devastated, embittered, turned sour. That's the business we're in. As for seeing the dramatizations of my own work, it was dislocating. It was like seeing your dreams in someone else's head.
Q. Besides fiction, you're well known for your editorial and critical roles at The Baltimore Sun and The Washington Post, where you worked from 1971 to 2008. Do you consider yourself first a journalist or novelist?
Stephen: Consider myself now a novelist and see no gain in looking back. I try not to be terribly self-conscious of my work. I just do it. It does seem that the voice of my fiction is veering more toward the voice of the critic, meaning it's more sardonic, ironic, satirical, comical. No jokes in Dirty White Boys, plenty in Targeted.
Q. You're an involved member of ITW and other writing organizations. What's your philosophy on involvement within the greater community of writers?
Stephen: Happy to help generally but not interested in helping specifically. That means I'll give speeches and write advice, but I will never have a mentee, I will never try and help somebody get published, I will never make phone calls on anyone's behalf. In fact, at 75, I'm still looking for my first mentor! Any suggestions?
Q. What have you read lately that you enjoyed?
Stephen: Not a big reader of books, including the ones I've written. I have the internet-degraded attention span of a gnat with continence issues. Read blogs, mags, opinion pieces and so forth, hardly ever actual books. Fill my need for stary with Brit tv; big fan of Suchet's Poirot, Cumberbatch's Sherlock, as well as others. My big ambition used to be to get an ITW life award; now it's to live long enough to see the final season of Peaky Blinders!
Q. What are you working on now?
Stephen: Big WWII novel called The Bullet Garden and loving every second of it. No emails, lots of tommy guns!
Targeted
After his takedown of a dangerous terrorist, Bob Lee Swagger learns that no good deed goes unpunished. Despite the fact that his actions nearly killed him–and did kill the would-be assassin–the U.S. Congress has summoned him to court. A hardheaded anti-gun senator has accused Swagger of reckless endangerment, determined to make an example of him. He must go before the House Judiciary Committee in Boise, Idaho. But what begins as political posturing soon turns deadly when the auditorium where the committee is being held is attacked.
Swagger, the senator, and numerous bystanders and reporters are taken hostage by a group of violent operatives. Soon, the very people who had accused him are depending on him to save their lives. Trapped in the auditorium and still struggling with his injuries, Swagger must rely on his instincts, his shooting skills, and the help of a mysterious rogue sniper on the outside in order to ensure that everyone makes it out alive.