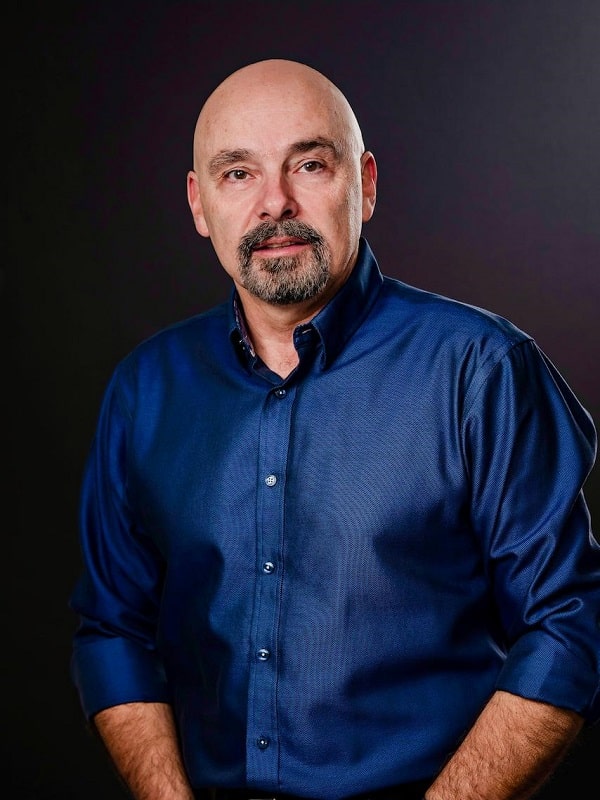 Steve Urszenyi served for many years as a paramedic and a police tactical medic. He is an expert in chemical, biological, radiological, nuclear, and explosives (CBRNE) incident response. When not writing, Steve loves international travel and touring on his Harley-Davidson motorcycle with his wife, Lynne.
Q. Perfect Shot is one of the most anticipated debut thrillers of 2023. For those who haven't had a chance at an early copy, what's it about?
Steve: The short copy on retailer websites describes Perfect Shot this way: "A former Army sniper must fall back on her Special Ops skills when a friend's death uncovers a global nuclear threat, in Steve Urszenyi's Perfect Shot, the first in an electrifying new series featuring Special Agent Alexandra Martel." But my debut novel is much more than that, of course. At its most basic, Perfect Shot is (I hope) an entertaining romp with a fun, take-charge protagonist. Alex is a combat veteran, a former intelligence officer, and an FBI special agent working with Interpol. In short, she's seen and done things. That makes her highly skilled and lethal. At the same time, she's imbued with the kind of humorous cynicism that only comes with that depth of experience. This is a fast-paced story with plenty of jeopardy to go around, but more so it's a story about a person we come to know and care for as she kicks butt or gets her butt kicked while tracking down the bad guys and generally saving the world.
Q. What was your inspiration for the character of Alexandra Martel? How did you develop her unique blend of charm and lethality?
Steve: Alex is an amalgam of people I know and have worked with, both male and female. To work in emergency services as a paramedic, police officer, or firefighter, you have to have a certain personality. Or more truthfully, multiple personalities. On some level, each of these fields require people who are take-charge and assertive. At the same time, we're dealing with the public. So, that means we also must be diplomatic in scenarios that most people could never imagine. That suppression of what we are really thinking or feeling leads to some pretty dark and cynical humor. I've channeled as much of that personality as I could into Alex, with plenty more to come!
Meanwhile, I've been blessed to work with some amazing people—paramedics and police officers who are the best at what they do, whose perceptiveness and skill boggle the mind. The various characters in Perfect Shot are the beneficiaries of the inspiration I got from working decades in the field with people like these.
Q. Your novel weaves a complex conspiracy involving a global nuclear threat. What inspiration did you draw from the real-world?
Steve: Interestingly, the first draft of my novel was completed the summer before Russia invaded Ukraine. I don't want to give away any spoilers, but while I was writing my novel, I thought what I was putting on the page might be a little over the top in the world we are living in. Turns out the premise of my story is even more believable or conceivable today than it was even a few short years ago. Also, as someone who specialized in response to WMD incidents, I looked at real-world events over the past decade or so to help weave this tale together.
Q. How did your experiences as a paramedic and a police tactical medic influence the creation and development of Alexandra Martel? Who else inspired her character?
Steve: Much of what I write isn't necessarily from direct first-hand experience but should carry the label, "based on real events." As a paramedic, I have responded to a terrorist bombing, multiple mass shootings, and have found myself in the middle of large, hostile crowds. As a police medic, I have hot-loaded on and off helicopters, responded to all manner of special weapons calls, riots and other public order incidents, and been involved in the retrieval of dangerous chemicals and radioactive materials. And I've shared these experiences with my work partners and colleagues, many of whom are women and directly or indirectly helped me form the idea and the concept of Alexandra Martel. Also, my wife Lynne, a former paramedic and then a formative presence in paramedic education for decades was a large influence. She is a fierce, independent person who will always be my primary inspiration. Other women and men who inspired the development of the characters in Perfect Shot are listed in the acknowledgments in the book, and there were many.
Q. Perfect Shot is the first in an exciting new series. Can you give us any hints about what's next for Special Agent Alexandra Martel?
Steve: Well, no spoilers here, but Alex will continue to fulfill her role as a tough, sassy, smart and lethal hero chasing down bad guys and conspiracies around the world. I love exotic settings and have been traveling abroad to research locales where Alex can ply her trade. But make no mistake, Alex will also come home to the States to confront evil wherever she finds it!
Perfect Shot
Special Agent Alexandra Martel has put her days on the battlefield behind her. Charming and disarming, relentless and lethal, she earned a reputation as one of the most renowned and decorated Army snipers in the service before stepping away. But when Alex, now an FBI special agent on loan to Interpol, learns that an old friend, an MI5 officer, has been killed under mysterious circumstances, she's pulled back into the dangerous world she left behind: a world where some people fear her, some want to recruit her, and everyone seems to want her dead.
Following a trail of clues left behind by the dead woman, Alex pieces together a terrifying conspiracy that only escalates when a nuclear warhead goes missing. Dodging death at every turn, she reluctantly joins forces with a CIA officer, but he has plans of his own for her―and will stop at nothing to achieve them.
Chasing the truth through the streets of London and bustling Turkish markets to the underbelly of Paris, Alex is unrelenting in her pursuit of justice. But as the clock ticks down and the world edges closer to doom, she must fall back on her Special Ops skills to stop the unthinkable. She thought her life as a sniper was over―but with stakes this high, she must use whatever means necessary to render the world safe.