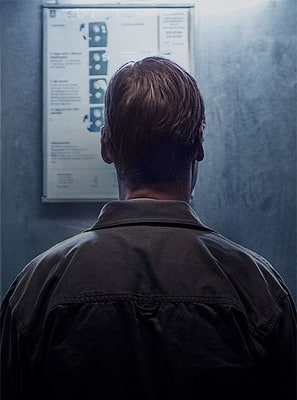 The Hunt For A Killer (Jakten på en mördare)
Rating: TV-MA
Run Date:  2020
The Hunt For a Killer is a six-episode, dramatized true-crime Swedish series based upon a number of murder investigations in the area of Skane, Sweden between 1989 and 2004.
The series opens with the investigation of missing ten-year-old Helen Nilsson.  Shortly after she is reported missing, her body is found wrapped in plastic after being left alongside a stone wall of a farmer's field.
For clearly vindictive and personal reasons, the murder investigation is assigned to an inexperienced detective that has yet to investigate a murder instead of to seasoned murder investigator Per-Ake Akesson (Anders Beckman).
After the second murder of an adult woman, investigators attempt to determine if the two killings are related and to assist in the investigations bring in Monica Olhed (Lotten Roos) for aid.  Olhed is known for success with her interrogations that she conducts with a foundation in psychology and rapport building. 
As the series unfolds with additional murders, to the surprise of investigators, research determines a large number of pedophiles and sexual deviants living within the area of the killings, with many of them being potential suspects.
The Hunt For a Killer is a superb police procedural and clearly with a quality found in only the highest tier of police procedurals. It documents the doggedly and methodical pursuit of not only the murder of Helen Nilsson but of the other murders in the area as well.
While the series is quite dry and with absolutely no humor, creators obviously were more interested in telling an accurate story of an investigation into a potential serial killer over the period of sixteen years.  The filming is done in such a way that it captures a bleak and dirty landscape and where interiors exist as one may imagine when it comes to crime scenes.  Supporting cast members are often unattractive in  their appearance, with many of them physically resembling true people rather than the beautiful people so often portrayed in American "Hollywood" styles. 
The series also depicts how criminal justice administrators, along with their petty egos, end up hampering invesitigations through the demands of byzantine bureacraccies, proving to be as troublesome as the elusive criminals being sought.
Anders Beckman as Per-Ake Akesson portrays Akesson as a tireless, but bone-weary, investigator prone to being difficult to administrators because his main concerns are of finding killers while their main goal seems to be that of forcing people like Akesson to conform to the changes of a police department in the modern era.
Also contained with the program is the portrayal of the development of DNA evidence pertaining to criminal investigations and while it is still in its infancy.
While some may find The Hunt For A Killer lacks the typical police procedural spit and polish, the filming, dank and dark settings, and realisitically appearing actors bring about a factual series depicting how a true police investigation unfolds when dealing with unsloved cases over a lenghty period of time.
There are brief scenes with nudity and subject matter of an adult nature, however, acts of violence are implied off-camera with minimal amounts of graphic depictions.
The Hunt For a Killer is streaming on Sundance Now and cannot be recommended highly enough.
More TV Mysteries and Crime