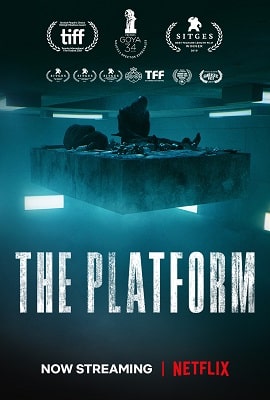 The Platform
Rating:  TV-MA
Director:  Galder Gaztelu-Urrutia
Premiere Date (Streaming):  March 20, 2020
The Platform is a 2019 Spanish social science fiction horror that was released on Netflix as an original in March 2020. Here, people who find themselves in a large tower prison, where everyone is moved around on floors every 30 days. The floor where a prisoner is kept is part of a hierarchy, which defines how much food a prisoner will get. The key premise comes in the form of a platform which floats through the entire tower, stopping at each floor. The platform has enough food on it for everyone in the tower, but the amount you get to eat is based on the kindness of those above you.
Viewers spend the film with a man named Goreng, whose term in the tower will last six months, after which time he will receive a diploma. However, he was unaware of the feeding procedure before entry. As time goes by for Goreng, he comes to understand that food rarely makes it past the 60th or so level, with him realizing also if he tries to withhold any food, then he is going to either be frozen or roasted alive in his room. With the distribution of food being the main source of conflict for anyone living in the tower, they all come to realize, that the attitude of those below don't matter, and those above don't listen, will not be sustainable if everyone is live and last through their stays.
The Platform is effectively a social commentary on the mannerisms of humans in society, with many overconsuming on goods, leaving little for those who come after them. (Greenhouse gases causing global warming or starvation in poorer nations, for example). There's nothing wrong with the film using this as its way of pushing the story forward, with the platform of food being representative of money / wealth, and the levels in the tower directly corresponding with the amount of wealth a person has. (The richest being able to gorge / indulge themselves to their hearts' content, with little thought about those who may not have as much).
The Platform is not overly enjoyable or even a well-produced film, if you are not willing to think about it in terms of inequalities or the political messaging which is wrapped up inside it. By demonstrating the way in which the group try and get food down to the lower levels, they come to realize the same as we do, that perhaps violence is not always the answer.
Whether you agree or disagree with the message that is being put forth by the director, The Platform is one that bears consideration.