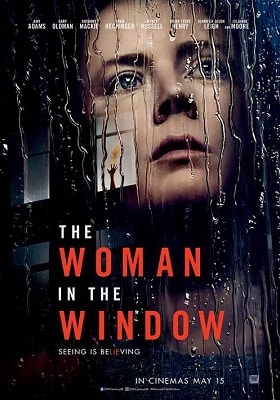 The Woman in the Window
Rating:  R
Director:  Joe Wright
Premiere Date (Streaming):   May 14, 2021
Ok, so Rear Window it's not, but Joe Wright's The Woman in the Window does execute some amusing tension… before its underwhelming payoff, that is.
Yes, it's silly and derivative, but it smartly plays off that. You see, the filmmakers are surely winking at us through all the not-so-subtle "easter eggs" that have been added to the proceedings. There are plenty of overt instances where you'll find our agoraphobic protagonist watching cinema classics the likes of 40's noir Laura and Alfred Hitchcock's Spellbound. In fact, Hitchcock fans are likely to notice quite a few nods to the famed director, including an infamous downward-facing camera shot that descends through the core of a spiral staircase. Blatant rip-off or affectionate homage? It's certainly the latter, although I'm not sure the "Master of Suspense" would be all too flattered given the film's uneven results.
While things start off strong enough, thanks to some interesting character introductions, the plot really goes off the deep end in the third act. It's here that the revelations begin to make less and less sense. Warning: this is one of those movies that, when all is said and done, will have you recalling earlier events and trying to place logic on them (good luck with that). And, with all the aforementioned call-backs to films of old, it loses all semblance of originality. A "love letter to the classics" can only take you so far.
Alas, the stacked cast is another mixed bag, with Amy Adams ultimately holding it all together with a dizzying performance full of boozy bouts of anxiety. Oscar winner Gary Oldman, on the other hand, is all but wasted in a generic "suspected abusive father" role, while recent breakout Wyatt Russell deserved much better as the mysterious "is he good or is he bad" downstairs tenant. Throw in blink and you'll miss them turns from acting gems Jennifer Jason Leigh and Julianne Moore, and it all becomes an unfortunate misuse of talent.
The film also suffers from being a mite over-stuffed. With plenty going on, the plot touches on such things as mental health, the aftermath of trauma, domestic abuses, substance abuses, child neglect, criminal reform, and, oh yeah, a murder. And at an hour and forty minutes, it never has a chance to say anything meaningful about any of it.
So, in the end, if you're looking for something of major psychological substance, well, I'm afraid it's probably best you close the curtains on The Woman in the Window.