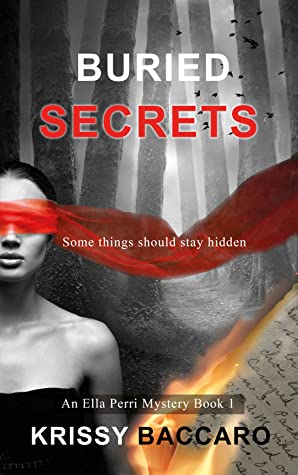 Ella Perri found it hard to go on after the tragic death of her partner Jack, but her family was there to provide support.
Ella is especially close to her maternal grandparents, Poppy and Nonna, who fled Mussolini's Italy over 70 years ago and settled in upstate New York. Ella is now ready to get on with her life, and is applying for hospital residencies to complete her medical training.
Ella's plans are put on temporary hold when a dying Poppy asks her to find a box hidden in his cottage. Poppy emphasizes that the box is very valuable to him, and warns Ella to 'watch who you trust.' Upon Poppy's passing, Ella locates the box, which contains a very old diary, photos, and a gun. Ella also finds letters to a woman named Gianna, written in the late 1930s. Finally, Ella discovers a letter from Poppy to herself, along with money, requesting that she go to Italy to find out more about Gianna.
Ella tells her family about the hidden correspondence, and about her plan to go to Italy. Ella's mother Gabriella, Uncle Luca and Aunt Lena, and Nonna claim to know nothing about Gianna, and STRONGLY discourage Ella from making the trip. But Ella insists on going, and makes arrangements to visit the places mentioned in the letters. Ella's best friend Jamie, who was very solicitous after Jack's death, decides to go along for moral support.
As soon as Ella and Jamie arrive at their first destination in southern Italy, a beautiful resort in Calabria, they're approached by an attractive Italian couple named Marco and Sophia. The duo appear eager to ingratiate themselves with the Americans, and seem to show up wherever the girls go. Ella and Jamie have been warned about criminals, and are wary of the intrusive couple.
The Americans follow their planned itinerary, visiting sites described in the missives; seeking out people Poppy knew; looking for newspaper stories about pre-war Italy; etc. Along the way, the girls visit a monastery in Tropea; go on a culinary walking tour of Ravagnese; drive along the Costa Degli Dei; peruse the Corso Garibaldi shopping district; visit the romantic fishing village of Scilla; explore a beautiful vineyard; dine on sea snails and swordfish in a restaurant on the Amalfi coast; and more.
Ella and Jamie also meet a tall dark handsome man named Nico, who offers to assist with their search. Ella is attracted to the charming Italian, but memories of Jack make her hesitate to get involved.
Eventually, Ella and Jamie learn that Gianna is at the center of a mystery that's haunted Poppy all his life. This revelation leads to additional discoveries, and Ella realizes her family has been hiding secrets for decades…secrets that someone might kill to protect.
Buried Secrets is a compelling atmospheric thriller in an attractive exotic setting.
Thanks to Netgalley and Krissy Baccaro for a copy of the book.