Don Bentley is the author of WITHOUT SANCTION and THE OUTSIDE MAN by Penguin's Berkeley Press. A former Army Apache helicopter pilot, FBI special agent, and SWAT team member, Don brings deep experience to his writing. He's currently working on the next Tom Clancy Jack Ryan Jr. Book, as well as new installments of the Matt Drake series.
Q. Your non-writing career is as impressive as your writing one. How have your experiences as an Army pilot, SWAT team member, and FBI agent informed your writing?
 Don: Like most writers, it took me awhile to figure out what I wanted to be when I grew up.  I spent a decade as an Army Apache pilot and my tour of duty as an Army Apache pilot in Afghanistan was a big catalyst for writing WITHOUT SANCTION.  On June 28th, 2005 I was the air mission commander for an operation to rescue four SEALs pinned down on a mountaintop in Afghanistan.  Over the course of that mission, one of the helicopters I was charged with protecting was shot down, and I couldn't stop it.  In the years since, I had to find a way to live with what happened in Afghanistan, even though what I really wanted was a chance to somehow do things differently.  In WITHOUT SANCTION, my protagonist, DIA operative Matt Drake, gets that chance.
I also served as an FBI Special Agent and member of a Special Weapons and Tactics (SWAT) team. As an FBI Agent, one of my jobs was to run and recruit what we called sources and what case officers in the intelligence community refer to as assets.  The relationship between a handler and his asset is a complex, evolving thing.  At its core, it's a relationship based on conflict. A handler's job is to convince an asset to provide information.  Information that oftentimes puts the asset's wellbeing at risk.  This experience definitely found its way into WITHOUT SANCTION in that the relationship between Matt Drake and his asset forms the novel's centerpiece.
Q. What's your go-to genre for reading at home? And who's one author you're always happy to take for a beach read?
Don: There are so many excellent writers in this genre, and I feel lucky just to be able to share shelf space with them.  People like Tom Clancy, Brad Thor, and Vince Flynn built the modern version of this genre, while authors like Brad Taylor, Mark Greaney, and Kyle Mills have brought even more readers into the fold.  I'm also thankful for writers like Alistair MacLean and Jack Higgins who were their predecessors.  The Eagle Has Landed is still one of my all-time favorites, and I grew up wanting to be Clint Eastwood's character in the movie version of Where Eagles Dare.  Still, of all the great authors I mentioned, Nelson DeMille and Daniel Silva have been particularly impactful to me.  Nelson DeMille's witty, first person protagonists gave me the courage to write Matt's distinct voice.  In the same vein, I think that Daniel Silva's Gabriel Allon series has some of the best story telling the genre has to offer.  Daniel Silva is what I most often read when I'm editing my own work. 
In addition to the thriller genre, I also love both epic and urban fantasy.  If I want to take a book to the beach, or just spend some time in a world that's completely different than the one in which I write, Jim Butcher's Dresden Files is usually my go to series.  After all, who doesn't love a scrappy wizard from Chicago? 
Q. Matt Drake, the protagonist of Without Sanction, is a broken guy. His hand shakes, he's seen some horrible stuff on the battlefield. How do you get in the mind of a protagonist like that? And why do you think readers love reading broken characters as much as they do?
Don: I think the fact that Matt is somewhat broken makes him more relatable.  A thriller writer must walk a very fine line.  On the one hand, your protagonist needs to be larger than life.  Someone who says and does the things you wish you would or could in a similar situation.  But at the same time, your protagonist mustn't be seen as superman because a protagonist with nothing to fear isn't terribly interesting.  With that in mind, I thought that Matt's physical reactions were a great segue into his troubled past.  There are already some fantastic writers using PTSD as a way to place limitations on their protagonist (like Nick Petrie's Peter Ash series), but this part of Matt's story felt very personal to me.   The idea of adding this limitation to Matt's character didn't occur to me until the third or fourth draft, but once I added that aspect, the story seemed to exponentially grow.  Hopefully the readers feel the same way
Q. What's your favorite part about writing? What do you absolutely hate? 
Don: I hate first drafts.  Absolutely hate them.  I write more organically which means that in the first draft I'm actually telling the story to myself.  This is when I most feel the pressure of blank pages staring back at me.  This is when I experience my greatest moments of self-doubt.  Is there a story here?  Is this original or just a rehash of what everyone else is writing?  And my personal favorite: what was I thinking when I came up with this subplot? Though portions of the first draft are fun, for the most part, they are tough slogs.  But I love what comes next.  After struggling through the first draft, I usually pull out my trusty scene note cards and arrange them according to the structure from Save The Cat by Blake Snyder.  For me, this is when the magic happens as a bloated, rambling first draft slowly transforms into a tight, coherent story.  That is the part of writing I love.  I just wish I could skip the first draft part!
Q. Outside Man is coming in early 2021. Without giving too much away, what can readers expect?
Don: Folks like my protagonist Matt Drake who run and recruit assets tend to use assumed identities, or legends, while operating overseas.  A legend is a case officer's insurance policy, designed to guarantee that their clandestine work at the pointy end of the spear never follows them back home.  But in THE OUTSIDE MAN, the wreckage of a previous operation comes to Matt's front door.
Q. What are you working on next?
Don: I'm pretty much living the thriller writer's dream right now.  Tom Colgan, my fantastic editor, gave me the chance of a lifetime when he offered me the opportunity to work in the Tom Clancy universe in addition to writing the third and fourth books of my Matt Drake series.  After THE OUTSIDE MAN drops in March 2021, my first Tom Clancy Jack Ryan Jr. book will come out three months later in June 2021.  I'm most of the way through the dreaded first draft in that book and expect to finish in the next several months.  Once that manuscript is turned in, I'll be switching gears to the third book in my Matt Drake series.  Two books in two different series coming out in the same year is pretty awesome. 2021 is going to be a ton of fun!
More Action Thriller Authors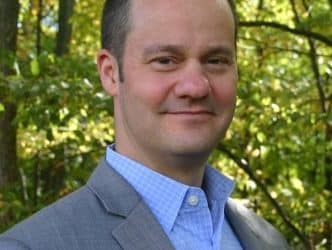 The WSJ bestselling author on routine, THE MOUNTAIN, & more