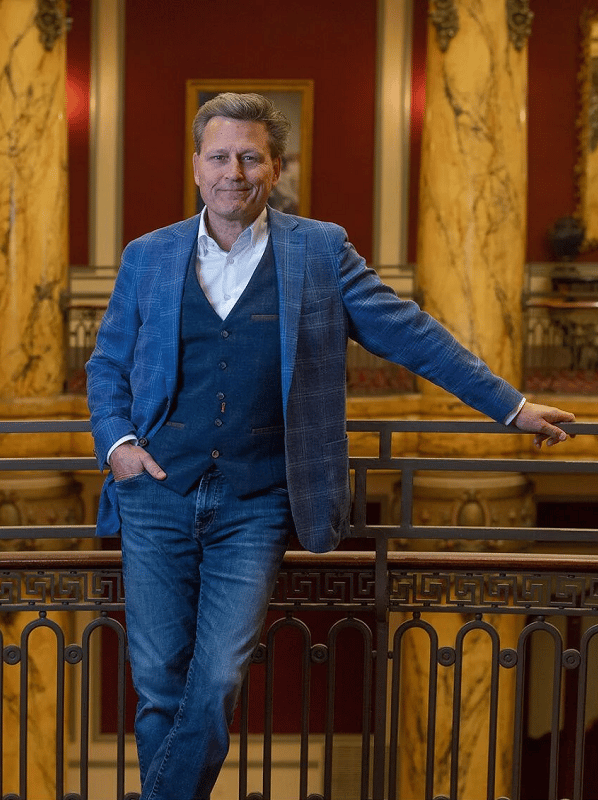 David Baldacci has been writing since childhood, when his mother gave him a lined notebook in which to write down his stories. (Much later, when David thanked her for being the spark that ignited his writing career, she revealed that she'd given him the notebook to keep him quiet, "because every mom needs a break now and then.") 
David published his first novel, Absolute Power, in 1996. The feature film adaptation followed, with Clint Eastwood as its director and star. In total, David has published 47 novels for adults; all have been national and international bestsellers, and several have been adapted for film and television. His novels are published in over 45 languages and in more than 80 countries, with 150 million copies sold worldwide. David has also published seven novels for young readers.
Q. Readers are in for another treat with Simply Lies, a straight-to-the-bloodstream thriller featuring former New Jersey detective, Mickey Gibson. Who is Mickey? How does her suburban, single-mom life change in an instant?
David: Mickey Gibson is a tough former cop turned Internet sleuth and a single mom. She is fine with her new life, because it allows her to be at home with her two little kids, but she does miss the adrenaline rush of being on the street hunting criminals. Her suburban life is blown to hell when she receives a phone call one morning from someone calling herself Arlene Robinson. As soon as Gibson acts on the request in that phone call, her life will never be the same. She has to go from supermom to supercop in the blink of an eye. But, of course, she can never really stop being a mother. Her opponent is one quirky, capable lady too. Together, they make a memorable pairing.
Q. What drew you to Mickey's story? What was the inspiration behind it?
David: My wife had me listen to a crime podcast a while back about a con being run on Hollywood film workers – makeup, wardrobe, location scouts—that took them to Indonesia. One of the people on the podcast they employed to help solve the case hunted folks and assets online. That was intriguing enough for me to create Gibson's backstory. And let that be a lesson to us all – you never know where a story idea is going to come from. Lift your eyes from your totally addictive electronic device and actually watch the world and its inhabitants for a bit. You will never be without story ideas.
Q. Famously, your first novel, Absolute Power, took three years to write, two weeks to find an agent and two days to sell. How has the writing process changed for you? What are your habits and routines?
David: I'm scared with every new book that I can't bring the magic again, but that's okay because fear is a great antidote to complacency. I write most days, no page count or word goals. I write until the tank is empty. I don't outline the book but let it grow organically. There is an urgency with writing in the trenches instead of looking at an outline you wrote months ago to tell you how the story is going to go, before you even spend one page with your characters. I love to print out the full manuscript and then bloody it with my pens. I think best in cursive! And marginalia and inspired thought is where that blob of clay comes alive to go forth as a real book.
Q. What are you reading these days?
David: I'm reading And There Was Light: Abraham Lincoln and the American Struggle, the new biography by Jon Meacham, as well as the new biography on Agatha Christie by Lucy Worsley. My sister gave me Killers of a Certain Age by Deanna Raybourn, which I'm looking forward to diving into.
Q. Is Simply Lies the start of a series, or a standalone? Are we going to see Mickey again?
David: Mickey and her new partner will be back! They're too good for a one-and-done. When you find magic, you need to let it out of the bottle for others to enjoy.
Q. What's next? 
David: A sequel to The 6:20 Man and two works of historical fiction. What? Historical fiction did you say? Yes. Stay tuned.
Simply Lies
Mickey Gibson, single mother and former detective, leads a hectic life similar to that of many moms: juggling the demands of her two small children with the tasks of her job working remotely for ProEye, a global investigation company that hunts down wealthy tax and credit cheats.  
When Mickey gets a call from a colleague named Arlene Robinson, she thinks nothing of Arlene's unusual request for her to go inventory the vacant home of an arms dealer who cheated ProEye's clients and fled. That is, until she arrives at the mansion to discover a dead body in a secret room—and that nothing is as it seems.   
Not only does the arms dealer not exist but the murder victim turns out to be Harry Langhorne, a man with mob ties who used to be in Witness Protection. What's more, no one named Arlene Robinson works at ProEye.  
In the blink of an eye, Gibson has become a prime suspect in a murder investigation—and now her job is also on the line until she proves that she was set up. Before long, Gibson is locked in a battle of wits with a brilliant woman with no name, a hidden past, and unknown motives—whose end game is as mysterious as it is deadly.