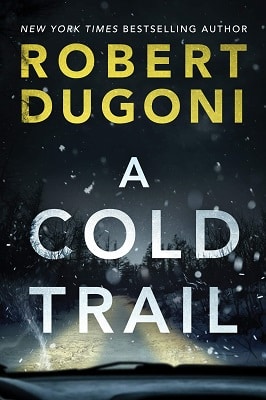 In A Cold Trail, Robert Dugoni brings murder, mystery, and suspense to a police procedural like few authors can. This novel, set mostly in Cedar Grove, Washington in contemporary times, has both compelling characters and a plot that captures you and doesn't let go until the final moments.
This story starts with a prologue set in Cedar Grove in 1993, but moves quickly to current events with occasional flashbacks to 1993 and to events that occurred during the past year. Tracy Crosswhite, a Seattle police detective in the Violent Crimes Section, her lawyer husband Dan and their two month old daughter Daniella have temporarily moved to their childhood home town while contractors demolish and remodel their farmhouse. While there, Tracy is drawn into a case by the local police department and Dan takes on a case representing a local merchant.
Tracy and Dan felt very realistic as they juggled work/life balance, egos, pride, and communication issues. Their dialogue and banter felt natural and real. Additionally, the mix of personal and professional lives felt natural. There are a number of secondary characters to get acquainted with if you are not familiar with the series. However, the author uses them deftly to round out the story and even uses some humor to ensure the reader understands their personalities.
Dugoni uses vivid descriptions that help a reader to better understand the small town environment as well as the winter weather, secrets, lies and emotions that are prevalent in the book. While this book has some action, it is mostly a police procedural and a legal case until the last 20 percent. The cases are complex and challenging with numerous suspects and angles that have to be explored. There are some more extensive descriptions of legal maneuverings, but they are necessary to fully understand that case. The story is believable, complex, and has some good twists to keep Tracy and Dan as well as readers on their toes. The epilogue leaves a thread open for the next book in the series, but the subplots are all wrapped up nicely without any cliffhangers.
Overall, this was a fantastic book with well-developed characters, a great setting, realistic dialogue, and a page-turning story line. While this is the seventh book in the Tracy Crosswhite series, there is enough background material woven into the story that it can be read as a standalone. I recommend it to those that enjoy police procedurals, mysteries, and crime novels and am looking forward to reading the next book in the series.
I purchased a digital copy of this novel. Opinions expressed in this review are completely my own and are not biased in any way. Publication date was February 4, 2020.
At first, she believes the murder mystery game sent to her office is a gift
read more