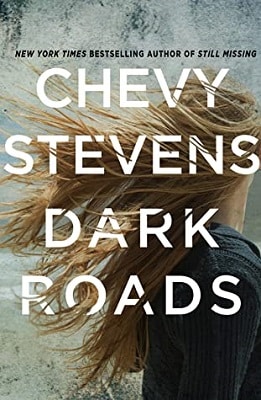 Over the past year or so, I've wondered, "What is Chevy Stevens up to, and when will she release a new book?" As a fan, you can imagine my delight when I saw Dark Roads announced as her upcoming novel. This one does not disappoint.
Cold Creek Highway has been well known for decades. There have been countless warnings: Don't hitchhike, don't drive on the highway at night, and do your absolute best to avoid it altogether. Why? Because hitchhikers have disappeared and cars have broken down, and there are many women whose dead bodies were found near the highway… or never found at all.
Hailey McBride is well aware of the dangers of Cold Creek Highway, having been a resident of Cold Creek for all of her life. After her father dies, she ends up in a dreadful living situation. One thing leads to another, and she feels that her only way out is to disappear and use her outdoor skills to survive. She doesn't predict that the town will think she is a victim of the serial killer hunting the highway. She also doesn't predict the dangers she will land in.
Beth Chevalier visits Cold Creek to attend the annual memorial for the highway victims. She has a personal investment, as her sister was murdered a year ago. Held captive with grief, she stays in town and gets to know the citizens, hoping to find out who killed her sister. Through the dark roads of the highway and the woods, she soon finds that nothing is as it seems, and not everybody should be trusted at first glance.
I have to say that this book didn't go in the direction I thought it would. I was expecting a scary story with lots of creepy moments involving a serial killer. My brief disappointment didn't last long. Although not scary in the literal sense, this is a fast-paced, action-packed thriller that rarely gave me time to relax and breathe. It's almost a survivalist story with tons of woodsy, outdoor elements. It's certainly never boring.
On top of that, there are 2.5 moments (from what I gathered) that are meant to surprise. I guessed 1.5 of them beforehand, but ALL of them are executed flawlessly. The story is also very atmospheric. I had no problem picturing everything—a feat that's so hard to do it well, but Chevy Stevens succeeds.
All in all, while the story detours from truly frightening, it makes a right turn in the woods and captivates with intensity and intrigue. Oh, and there's a dog co-star to boot, who may very well be my favorite character.
The author's note is also worth a read, as she was inspired by the Highway of Tears, a real situation with murdered or missing women in Northern British Columbia.
Sincere thank you to St. Martin's Press for providing me an ARC. All opinions are my own.
six teenage girls went missing in her small Louisiana town
read more